Vacations are usually times of fun and relaxation. But being in an unfamiliar place, or experiencing unexpected plan changes, can tip you off-kilter.
I well remember our first family road trip – a month long "American History field trip", spanning 16 states. We set off from Texas with our three children bundled into a van with 220,000 miles on it. That blessed van made it all the way to New York City before it broke down… broke down on an interstate, in a tunnel, right in the middle of the city.
I was one worried, praying mama as I sat in that overheating van not knowing what would happen next! We ended up limping back 300 miles to my mother-in-law's house. And what a blessing that we were able to return and have more time with family while we made our repairs!
When you are out of your comfort zone you are more prone to anxiety. And that's when you really need your Sword of the Spirit!
You know the saying "all directions point home"? The forever home of our hearts is with our Lord! And aren't we so blessed that He is always with us? He comes along on every vacation!
This month we have been sharing tips and tools to help you stay in God's Word while you travel. I've created a simple printable of verses that remind us of God's protection and direction.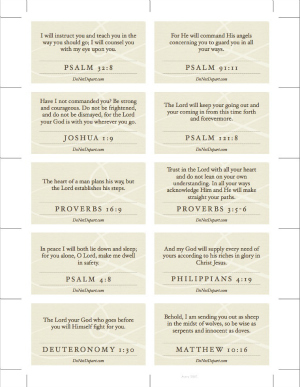 Just print these ten verses onto card stock, cut them out, then tuck them in your travel bag. God's Word will keep the compass of your heart pointing toward Him and your forever Home.
May your journeys be sweet, friends!
Have you ever been on a trip that had an unexpected twist that later you realized was a divine appointment? Click here to share your story in the comments!