God did not intend for us to live in isolation.
From the dawn of creation, from the moment He said, "It is not good for man to be alone" (Genesis 2:18), humans have lived in community. Yet despite the clamor of modern life, many believers do experience isolation, bereft of true community.
Scripture is full of references to godly community. Among other things, we are to
meet together (Hebrews 10:24-25)
eat together  (Acts 2:42-47)
help one another  (Galatians 6:2, Proverbs 17:17, Romans 12:13)
be unified  (Psalm 133:1, Ephesians 4:1-6)
find Christ in the midst of community  (Matthew 18:20)
This month at Do Not Depart we will explore the ins and outs of Christian community. Why does God call us into community? How can we find Christian communities? What should those communities look like? What do we do when challenges arise within communities?
We want to encourage you to be a vibrant part of a community of believers, because you were created for it!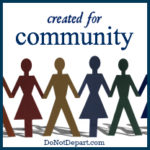 Do you belong to a community of believers? What blessings have you found as a result of committing to community? Please comment to join the discussion!