Hoping FOR SOMETHING is drastically different than hoping IN SOMEONE.
I know, because for a long time, I hoped for something.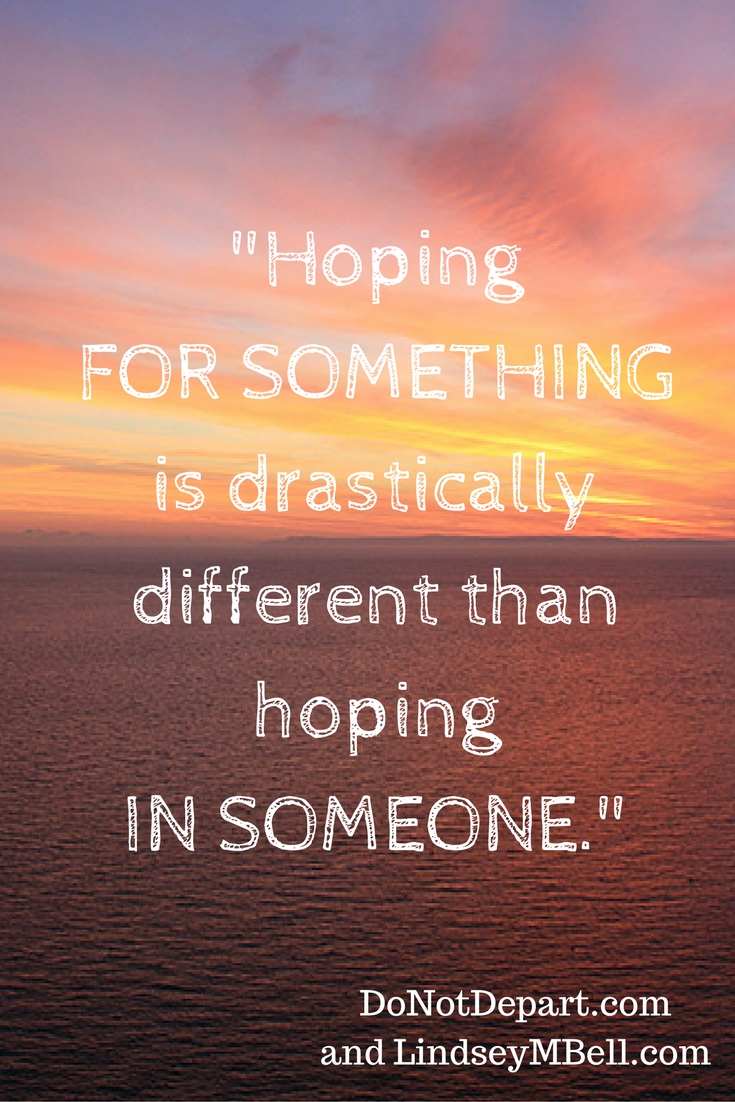 I didn't do it intentionally. In fact, I didn't even realize I was doing it at the time. I thought I was simply living in faith. I thought I was maintaining hope through a painful situation.
Looking back now, though, I know I wasn't really.
I was hoping that God would fix my problem.
My husband and  I couldn't carry a pregnancy to term. We miscarried one-then two-then three-then four babies we couldn't wait to hold.
With each pregnancy, people told me, "I know this one is going to be different. Don't give up hope."
And so I kept hoping. Every time I saw a positive pregnancy test, I became hopeful. Finally, God was going to come through for us, I thought each time.
I was hopeful, yes, but not placing my hope where it  needed to go.
I was placing my hope in God doing something, instead of simply placing my hope in Him. 
Have you ever done something similar?
Have you ever misplaced your hope and placed it on SOMETHING instead of on SOMEONE? 
God has been teaching me lately that misplaced hope in the midst of pain and suffering isn't really hope at all. Or, at least, it's not the kind of hope God longs for us to have.
In the midst of pain and suffering, the hope God desires we cling to isn't a hope that God will fix our problems, take away our pain, or remove all obstacles from our lives. Instead, the hope God desires we cling to is the hope that He will be with us through our hardships and the hope that He will use whatever we are going through for our good and His glory.
Romans 5:3-5, in the NLT, says that we can rejoice in our trials because we know God uses them to develop endurance, character, and hope.
"We can rejoice, too, when we run into problems and trials, for we know that they help us develop endurance. And endurance develops strength of character, and character strengthens our confident hope of salvation. And this hope will not lead to disappointment. For we know how dearly God loves us, because he has given us the Holy Spirit to fill our hearts with his love."
I love what this text says about how our hope in God will not lead to disappointment!
When we hope FOR something, that thing might or might not happen. If you're hoping for God to heal you or stop your pain or fix your problem, He might do it. I hope and pray He does. But, reality is, He might not. We might be disappointed if we are  hoping FOR something to happen.
But when we hope IN God, we will not be disappointed!
There's a huge difference between hoping FOR something and hoping IN SOMEONE, and I'd much rather take the route where I'm guaranteed not to disappointed. Wouldn't you?
Have you ever struggled with placing your hope in something happening instead of placing your hope in God alone? Why do you think it's so hard sometimes?