Years ago, my husband and I were camping with our two preschool daughters in the mountains of Wyoming. Sometime after midnight, noise in the camp woke me. When I whispered a question to my husband over the heads of our sleeping girls, his hushed but urgent reply quickly told me our nighttime visitor was much larger than a raccoon.
The light from the full moon cast a clear silhouette of the large black bear as she sniffed her way around the perimeter of our tent. I could see the movement of the nylon fabric and even hear her breathe as she passed close to me. Fear kept me from moving, but it also prompted prayer for protection. God heard and answered and the bear moved on.
David knew fear
David, the psalmist, knew the fear of facing wild animals to protect his sheep. He also knew the fear of hiding from murderous King Saul and fighting the ferocious Philistines. Through all this, David took his fear to God. And God heard, answered, and delivered.
I sought the Lord, and he answered me;
he delivered me from all my fears.
5 Those who look to him are radiant;
their faces are never covered with shame.
6 This poor man called, and the Lord heard him;
he saved him out of all his troubles.
7 The angel of the Lord encamps around those who fear him,
and he delivers them.

Psalm 34:4-7, NIV
The LORD "encamps around those who fear Him" (Ps 34:7). When we trust God with our fears, He establishes a protective enclosure around us. The bear may have been close that night in Wyoming, but God was closer.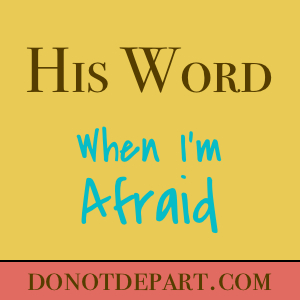 God Delivers Us
All of us experience fear. Sometimes the uncertainty of the future causes dread. Sometimes terrifying circumstances shake the most courageous among us. But we have a safe place to run when fears assail. God promises to establish Himself between us and that which threatens us.
Do you have a fearful challenge or a fierce battle before you now? You can take courage in the knowledge that God is overwhelming stronger than the person, situation, or circumstances you fear. As you follow God, you can have confidence in the strength of Him who leads the way.
God doesn't promise we will never face fearful circumstances, but He does promise to deliver us through them. What is the difference?