I emerged from the gauntlet of perfume counters and white coated clerks thrusting sample cards under my nose. Pausing in a forest of mitten covered racks, I caught my breath and surveyed the scene, searching for it. A mention of Christmas? Evidence Christ was born? Suggestion of a manger? There was none.
Other than giant-sized posters of happy people dressed in red beneath a single word in large script saying "BELIEVE," little proof existed to say the day was anything other than a national shopping day. "Believe what?" I wanted to shout. No one would've heard me over the din of doorbusters and "Next!" and crying children covered by packages in strollers.
But department store shouldn't have to tell me what to believe. They exist for shopping days; they know their goal and they stay focused. So who's the one to declare good tidings in these noisy, modern times?
For Christians, the Christmas season celebrates the incarnation of God's Son, the earthly birth of the heavenly Savior. Known as "the Word," even His name promised the giving of a message, news of hope for all mankind. And in the very story of His arrival, words took center stage.
announcements were made
government decrees were sent out
prophecy's fulfillment was spoken
a baby was inspired by a greeting
good news of great joy was declared
songs were sung by united hosts
threats were sent out by Roman rulers
rejection was delivered by a busy innkeeper
worship was humbly spoken in the night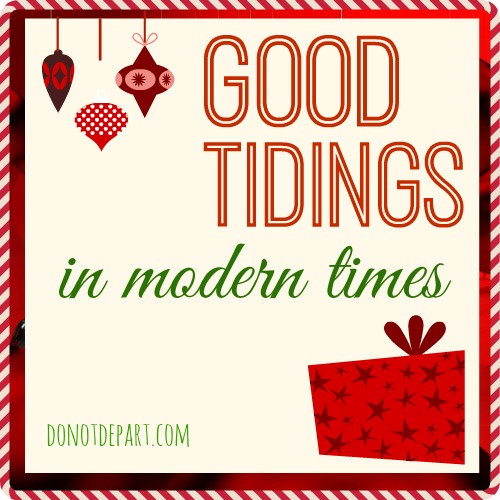 Along with the gift of "The Word," God gave us the gift of words of our own. He entrusted us with the power of voice, whether spoken, written, signed, painted or played. He gave us the power to convey a message. His message. We have the potential to declare the Good Tidings.
"And the Word became flesh and dwelt among us, and we have seen his glory, glory as of the only Son from the Father, full of grace and truth." John 1:14
Modern times are noisy times and times with more modes of delivering tidings than ever before.
With all of the words out there, people still want to know, "Believe what?"
And that's where those entrusted with the power of words join with the shepherds and the angel host and the wise men to declare good tidings. Our modern times count on US to sound out the good news that the Word became flesh and dwelt among us.
Will you join Do Not Depart this month as we explore the gift of words and rediscover the power and the joy of good tidings in modern times?