What Is Greek Life Anyway?
Maybe you or your children have been in a sorority or fraternity. Or maybe you despise them. We all have images of "Greek life"—some good, some bad—from friends' stories or Animal House or personal experiences.
We understand they are intended for community spirit, for belonging, for identity and friendship and support. [Why do fraternities and sororities use Greek letters anyway? Learn here.]
But there's a completely different—and much better—Greek life that we learn from Jesus.
Three Greek Lives
If you're breathing, you have life. Your dog breathes. Your oak tree breathes. We count them all as alive.
But actually three different Greek words are used in the New Testament for "life." Two of these types of lives everyone has from birth.
But the third type? It is radically different from them all.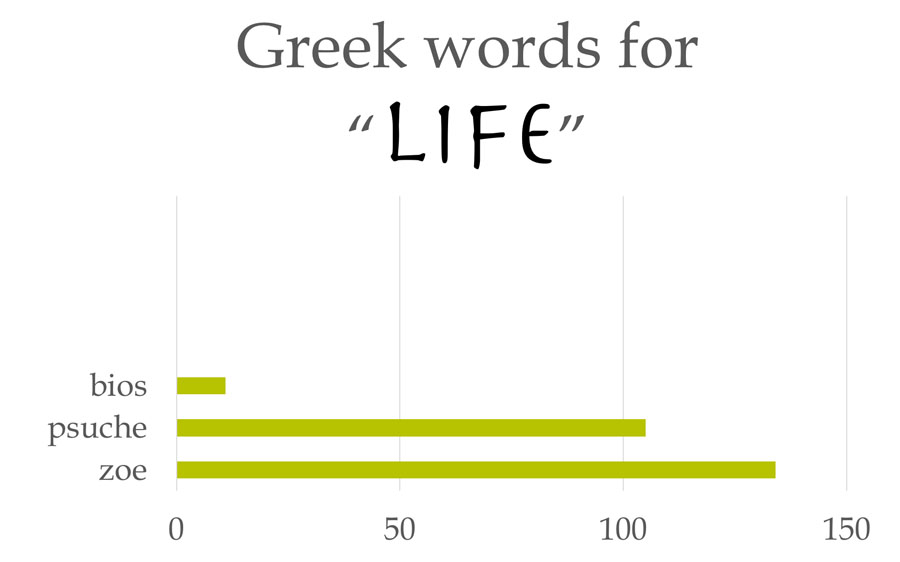 1. Bios = Life
Remember biology class? The study of living organisms. Our word "biology" comes from this Greek work bios. It is the least used word for "life" in the New Testament (11 times) and is often translated as other words.
bios [bee'-os] – life; (1) present state of existence, (2) the means of livelihood. Strong's G979
Bios is our biological life and the things that sustain our life (our livelihood). We need it, we use it, but we can't depend on it.
Look at these messages about bios:
". . . lead a peaceful and quiet life, godly and dignified in every way."
1 Timothy 2:2
"No soldier gets entangled in civilian pursuits [affairs of this life], since his aim is to please the one who enlisted him."
2 Timothy 2:4
"For all that is in the world—the desires of the flesh and the desires of the eyes and pride of life—is not from the Father but is from the world."
1 John 2:16
"But if anyone has the world's goods and sees his brother in need, yet closes his heart against him, how does God's love abide in him?"
1 John 3:17
Message about bios: Live by it, but not for it.
2. Psuche = Life
Think now about psychology, the study of the mind and behaviors.
Psuche is the second most used word in the New Testament for life, translated in the KJV as "soul(s)" 58 times, and as "life (lives)" 41 times.
psuche [psoo-khay'] – life; (1) the breath of life, (2) the soul, seat of the feelings, desires, affections. Strong's G5590
Psuche is the seat of our personality. The way we respond to circumstances reveals our psuches.
When Jesus died, He not only gave up his body, bios life, He also gave up His soul, psuche life.
Read these scriptures with psuche:
"Take my yoke upon you, and learn from me, for I am gentle and lowly in heart, and you will find rest for your souls."
Matthew 11:29
"Therefore I tell you, do not be anxious about your life, what you will eat or what you will drink, nor about your body, what you will put on. Is not life more than food, and the body more than clothing?"
Matthew 6:25
"But I do not account my life of any value nor as precious to myself, if only I may finish my course. . . . ."
Acts 20:24
"By this we know love, that he laid down his life for us, and we ought to lay down our lives for the brothers."
1 John 3:16
Message about psuche: Live through it, but lay it down.
While we all are born with bios and psuche, and we need them to live, this next "life" below is totally different. . . .
3. Zoe = Life
Zoe is the most used word for "life" in the New Testament (134 times), translated only as "life" every time. The apostle John used it more times in his gospel than Matthew, Mark, and Luke combined.
zoe [dzo-ay'] – life. Strong's G2222
We're not born with zoe. It's only given as a special gift from God to His believers, for now and for eternity.
Zoe is the divine life in us, the transformation of our spirit from dead to alive. It is life as God has it and life as He intends us to abundantly have.
See if you notice how different "life" is in these scriptures with zoe:
"For as the Father has life in himself, so he has granted the Son also to have life in himself."
John 5:26
". . . I came that they may have life and have it abundantly."
John 10:10
"And this is eternal life, that they know you the only true God, and Jesus Christ whom you have sent."
John 17:3
"Whoever has the Son has life; whoever does not have the Son of God does not have life."
1 John 5:12
It's been said that psuche is the living being, but zoe is the life of that being.
Message about zoe: Live in it, in Jesus.
Zoe Is Powerful
Zoe life is what makes believers different from the inside out. It's more than what we do or think; it is who we are in the deepest places, a beloved child of God.
Bios and psuche life can swing between bad and good all our lives—we have sick days and healthy days; we have joys and disappointments. Life has hurts and can be confusing.
But zoe life is what we have underneath it all, even when we can't feel the peace or see the healing. Zoe is our permanent placement in the very palm of God's hand, alive forever, safe in Jesus.
Zoe is . . .
Peace deeper than pain
Vision through the veils
Joy in the jarrings
Purpose beyond predicaments
Unlike human fraternities and sororities, zoe Greek life connects us to a divine community, with dues already paid, where we're given a royal identity, and friendship with God forever.
That's the kind of Greek life I'm into.
Do you have a favorite Greek word? Did you already know about zoe? Please share your Greek life experiences in the comments.
Want more clickable resources? Download Greek Life Resources for additional study.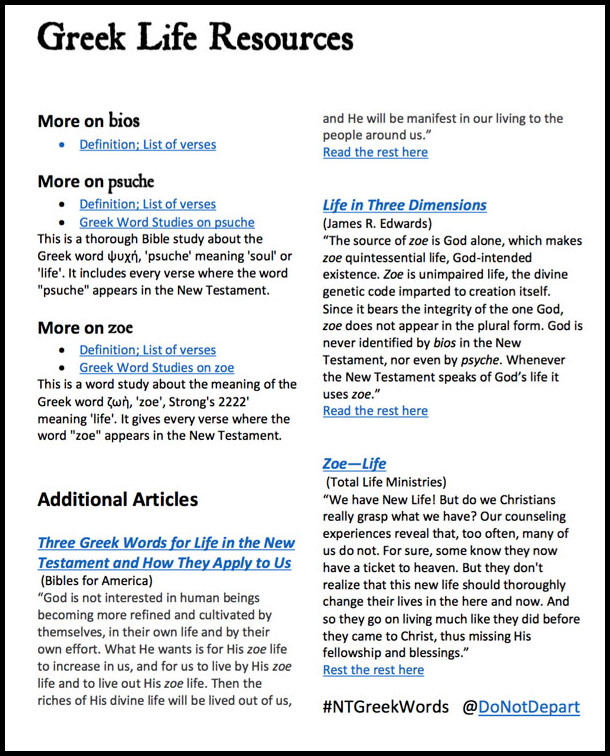 Read all our posts this month on New Testament Greek words here.