What Is an Ebenezer?
Modern versions have changed it, but many of us still recognize these lines from the beloved old hymn, Come Thou Fount of Every Blessing by Robert Robinson (1735-1790):
Here I raise mine Ebenezer – hither by Thy help I'm come;
And I hope by Thy good pleasure safely to arrive at home.
Jesus sought me when a stranger wand'ring from the fold of God;
He to rescue me from danger interposed His precious blood.
Thanks to Charles Dickens, the name Ebenezer brings to mind a crotchety old man. But the Ebenezer in the hymn is not a person at all.
Then Samuel took a stone and set it up between Mizpah and Shen and called its name Ebenezer; for he said, "Till now the Lord has helped us." – 1 Samuel 7:12
A Stone of Help
In Hebrew Ebenezer is Even Ha'Ezer, literally "a stone of help." A marker… a testimony.
Twenty years before Samuel set up the Ebenezer stone, the Philistines had stolen the ark of the covenant from Israel, and experienced seven long and uncomfortable months (1 Samuel 5:1-6:12). Realizing that their only hope was to give the ark back to the Israelites, they had sent it on its way pulled by two cows.
The Israelites were greatly relieved to have the ark returned, but life did not return to normal. For twenty years…
…all the house of Israel lamented after the Lord. – 1 Samuel 7:2
So Samuel told the Israelites that if they returned to the Lord with all their heart, removed the idols, and served God alone, God would deliver them from the Philistines. They obeyed, cleaned house, then all gathered in Mizpah in repentance. And that's when the Philistines decided to attack.
In terror, the Israelites begged Samuel:
"Do not cease to cry out to the Lord our God for us, that he may save us from the hand of the Philistines." – 1 Samuel 7:8
And He did.  The Lord mightily subdued the Philistines, and Israel was saved.
Then Samuel took a stone and set it up between Mizpah and Shen and called its name Ebenezer; for he said, "Till now the Lord has helped us." – 1 Samuel 7:12
Modern day Ebenezer stories
An army has not been subdued on my behalf, but I have seen some amazing blessings as a result of God's power. And I have heard countless "God stories," coincidences that I know weren't coincidental, real examples of God's presence and working in the details of the lives of His children.
I can look back over my own life and almost see those Ebenezer stones.
And when I hear others' stories of God's helping power, their Ebenezer stories, I am encouraged and my faith grows.
We will not hide them from their children,
but tell to the coming generation
the glorious deeds of the Lord, and his might,
and the wonders that he has done.
– Psalm 78:4
This coming month at Do Not Depart we want to encourage you by sharing stories of God's might in our lives. Throughout May we will be raising our Ebenezers and declaring the glorious deeds of the Lord!
One generation shall commend your works to another,
and shall declare your mighty acts.
On the glorious splendor of your majesty,
and on your wondrous works, I will meditate.
They shall speak of the might of your awesome deeds,
and I will declare your greatness.
– Psalm 145:4-6
And we want to hear your Ebenezer stories. In a few weeks, we will give you an opportunity to share His awesome deeds in your life with the Do Not Depart community, and commend His works to us all!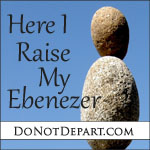 Have you seen tangible evidence of God's faithfulness in your life?
We hope you will share your Ebenezer stories with us! If you have one you are eager to share today, feel free to leave it in the comments!