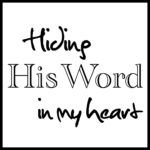 Please link your blog post(s) or leave a comment below about any scripture you've been memorizing or helping your children memorize.
Suggested topics:
The main reason I memorize scripture
Scriptures I want my kids to memorize
I'd memorize more if only . . .
My favorite memory verse
What I'm learning from memorizing Psalm 71
After you link, please visit other posts as your time allows. Thanks!