It's the first Wednesday of the month and time for the Hide His Word link-up. If you have written a post about scripture memory, come and link it up at the end of this great guest post from Kristi!
Testimonial: Essentials of Philippians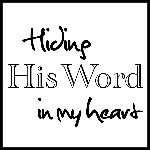 Two thousand eleven was going to be my year. I picked out my word…BRAVE. This would be the year I was going to make an impact…on my faith, my health, my family, and my home.
Only a few months into 2011 I got some news that my dad was sick. All my bravery went out the window. The wind got knocked out of my sails and I found myself struggling to go through my day. Everything I had been working so hard on was slipping out of my grasp. My weight loss plateau'd, my house became a mess, my attitude changed, as I spread myself way too thin traveling to my dad's house every day-off.
Now I wouldn't have had it any other way…I was so thankful to be able to spend time with my dad when he needed me. But emotionally and spiritually I was spent.  I was wrapping up my Bible in 90 Days challenge and was eager to continue to a spiritual walk of sorts (even though I was confused and tired). I had seen Katie tweet about Hiding His Word and I realized it was just what I needed.
You see, my depression was creeping back.  My dad was diagnosed with Stage 4 cancer.  I was working full time and balancing being a mom to 3 little boys and a wife to my husband. I couldn't handle the way my thoughts were taking me captive and decided I needed to take my thoughts captive instead. So on March 20, 2011 I decided to start memorizing the Essentials of Philippians as laid out on Do Not Depart.
Can I just say I love this challenge?  I downloaded the songs that Katie recommended. At work when I would start to get anxious I would put whatever verse I was learning on repeat and felt His peace wash over me. This was my lifeline during the drives to my dad's house.
I've only memorized 5 sections of verses, but I feel solid in what I know of those verses.  I have the first letters hanging in my shower to review, I listen to the songs, I have Jason test me.  As I fall asleep I meditate on these words, and again, when I wake up they are the first things on which I think.
The Hide His Word challenge has encouraged me in so many ways. I'm deeper in His Word and encouraged by it. I sometimes still struggle with my thoughts, but before they go very far I reign them back in…"I want you to know, brothers, that what has happened to me has really served to advance the gospel." Philippians 1:12
I received the call that he wasn't doing well and that we were getting close to the end. Many tears fell as I held my dad's hand, telling him how much I loved him and hearing him say the same thing to me. That entire day, the verses in the first chapter of Philippians "played on repeat" in my head. Any time my thoughts would go astray, I could cling to my verses in order to find my strength. And as my dad took his last breath…"For to me to live is Christ, and to die is gain." Philippians 1:21
In the days that followed as we prepared for his memorial and even in the days since his funeral, I continue to cling to the words I have memorized in Philippians.  I'm eager to move forward to Chapter 2 as I find my footing in this new normal. No matter your season of life, no matter what lies ahead of you, memorizing God's Word and hiding it in your heart will make all the difference.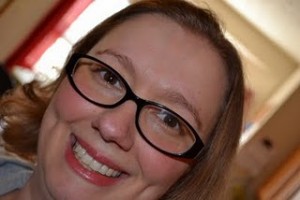 Kristi is a believer in Jesus, wife to her best friend, and mom to three amazing little boys.  She blogs at www.mommakristi.com and is just trying to be the woman God wants her to be.
Hiding His Word Link-up
Calling all posts about Scripture memory! Its time to link them up! Share what God is teaching you or tools and tips that have been helpful in your journey!