From where I sit, I've had a close up view of people following hard after God who have fallen hard in their pursuit of living for Him.  We're all susceptible to wanting to please people. Expectations sometimes sweep away passionate people who wanted to do their best and end up worn out. Without meaning to, family, bosses, relatives, friends,  and church people have needs that may drive the most well meaning woman to a weary place before she even knows it.
In his book Leading on Empty, Wayne Cordeiro cautions that, "You will burn out sooner on the inside than you're able to see on the outside." We may want a quick "fix" to this slow growing problem, but that covers up the true need to recharge, figure out what brought us to burnout, and change the way we do life. No one is exempt from a burned out condition.
Some signs of burnout
Work becomes difficult
What once gave us joy feels like a heavy drain
Decisions paralyze us
Our creativity is stifled
Physical symptoms or depression arise
We feel swept along by life, but out of control
God's Word records worn out words from some of God's heaviest hitters:  Moses (Numbers 11:14-15), David (Psalm 69:1-2), Elijah (1 Kings 19:2-4).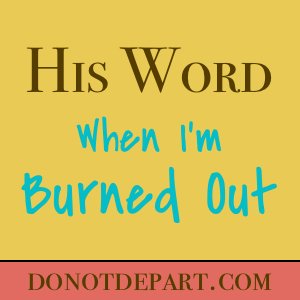 God's Word for the weary
Elijah came away from victorious battle with 850 prophets of Baal and the evil King Ahab, leaving him with a target on his back in the eyes of the even more evil Queen Jezebel. Physically, emotionally, and mentally drained, the Prophet ran away into the wilderness and collapsed under a broom tree. He uttered a prayer to ask God to end his life. He was "over it."
There under that tree, God sent an angel to speak words of understanding to the burned out, battle -weary man. Do you ever wish God would speak to you in your battle-weary place beside your laundry pile, at your bedside, at your desk, or in the pew? He might say what the angel said to Elijah:
But he himself went a day's journey into the wilderness and came and sat down under a broom tree. And he asked that he might die, saying, "It is enough; now, O Lord, take away my life, for I am no better than my fathers." And he lay down and slept under a broom tree. And behold, an angel touched him and said to him, "Arise and eat." And he looked, and behold, there was at his head a cake baked on hot stones and a jar of water. And he ate and drank and lay down again. And the angel of the Lord came again a second time and touched him and said, "Arise and eat, for the journey is too great for you." And he arose and ate and drank, and went in the strength of that food forty days and forty nights to Horeb, the mount of God (1 Kings 19:1-8).
God knows we have limits, yet He has no limits. He invites us to let Him care for our needs, ceasing from doing and receiving His invitation to rest, letting Him be our Protector and Provider. The undeserved favor He shows can shelter us when we're so weary we wish we could die.  Even the man after God's own heart, the anointed shepherd-king David experienced the feeling of being in over his head:
"Save me, O God! For the waters have come up to my neck.I sink in deep mire, where there is no foothold; I have come into deep waters, and the flood sweeps over me." (Psalm 69:1-2).
God has an answer for seasons of weakness when life is heavy on our shoulders of flesh:
But he said to me, "My grace is sufficient for you, for my power is made perfect in weakness." Therefore I will boast all the more gladly of my weaknesses, so that the power of Christ may rest upon me.  For the sake of Christ, then, I am content with weaknesses, insults, hardships, persecutions, and calamities. For when I am weak, then I am strong (2 Corinthians 12:9-10).
Have you ever been under a broom tree? Eat what the Lord has prepared to give you strength, rest with Him watching over your circumstances, and follow Him one more step at a time. The power of Christ will rest on you.
 What words would you share with someone who is under the broom tree?