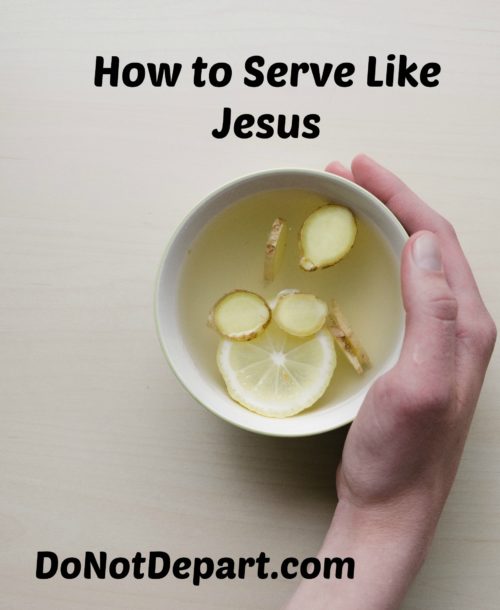 In Romans 12, Paul listed serving as one of the Spiritual Gifts. He said, "If your gift is serving others, serve them well" (Romans 12:7, NLT).
The question, then, is this: what does it mean to serve others well?
I think the answer can be found in John 13:1-17, when Jesus washed his disciples' feet.
"Before the Passover celebration, Jesus knew that his hour had come to leave this world and return to his Father. He had loved his disciples during his ministry on earth, and now he loved them to the very end. It was time for supper, and the devil had already prompted Judas, son of Simon Iscariot, to betray Jesus. Jesus knew that the Father had given him authority over everything and that he had come from God and would return to God. So he got up from the table, took off his robe, wrapped a towel around his waist, and poured water into a basin. Then he began to wash the disciples' feet, drying them with the towel he had around him" (John 13:1-5).
As I studied these verses, God reminded me of three important aspects of Jesus' service.
1. Jesus served well because he knew who he was.
"Jesus knew that the Father had given him authority…So he…" The word "so" is crucial in this text, because it tells us why Jesus served. Jesus was able to stoop down and wash the grime from his disciples' feet because he knew who he was. He didn't need to worry about what his disciples might think of him for stooping down to serve, because he knew who he was in God's eyes.
For us to serve well, we need to know who we are.
We need to stop worrying about how we look or what others think of us and start recognizing what God thinks of us. We are his beloved children. We are HIS. Yes, we are sinners, but we are sinners saved by grace through Jesus Christ. Who cares if you're washing a toilet or cleaning up vomit; the God of the universe loves you!
2. Jesus served well because he kept his eyes on what mattered most.
This incident occurred right before Jesus died. If there were ever a time when Jesus deserved to be selfish, it was at this very moment.
But Jesus didn't think of himself. Instead, he thought of those sitting around him. He thought of how he could spend his final few moments teaching them and equipping them to lead others.
1 Peter 4:11 says this about service: "If anyone serves, they should do so with the strength God provides." I imagine it took a lot of strength for Jesus to serve his disciples (especially Judas) just hours before his execution. But he was able to do so because he leaned on God for strength and kept his focus heavenward.
We too serve well when we focus our eyes on the things that matter for eternity, rather than on the here-and-now.
3. Jesus served well because of love.
Verse 1 of John 13 says Jesus loved his disciples to the very end. That is why he served them…because of love.
And that is why we serve too…because of our love for God and our love for others.
If we're motivated by looking good or appearing religious, we're not serving anyone but ourselves. To serve well-to serve like Jesus served-our actions must be motivated by love.
What other aspects of Jesus' service stand out to you? 
Tweetables:

What does it mean to serve others well? #SpiritualGifts @DoNotDepart http://wp.me/p1Su7F-2UZ  Click to Tweet
To serve well-to serve like Jesus served-our actions must be motivated by love. @DoNotDepart #SpiritualGifts  http://wp.me/p1Su7F-2UZ  Click to Tweet
How to serve like Jesus: http://wp.me/p1Su7F-2UZ #SpiritualGifts @DoNotDepart Click to Tweet
*Photo Courtesy: Unsplash