You've had a hard day, or maybe a hard season. Maybe I can't change any of your circumstances, but one thing I can do is encourage you in them.
To encourage—parakaleo in the Greek—literally means "to call near, invite, comfort." So to encourage you, I deliberately come beside you as an invitation to God. Maybe directly with a prayer of blessing or through a Bible verse. Or indirectly through actions (clean your kitchen, give you a hug), through words (a phone call, a text), or through gifts (a book, a candy bar—it works for me!).
Encouraging others is a true gift of the Spirit. While some are more naturally gifted at it than others, encouraging is one gift we all have opportunity and ability to exercise.
"We have different gifts, according to the grace given to each of us. If your gift is . . . to encourage, then give encouragement."
Romans 12:6,8 (NIV)
But why should I encourage you? The short answer is because I want you to feel better.
But deeper reasons are because I want what's best for you, what's best for God, and even what's best for me.
HERE ARE 5 REASONS TO GIVE GODLY ENCOURAGEMENT.
I encourage you . . .
1. To make you stronger in faith
The best gift I can give you is another reason to trust God and His grace (Colossians 2:2; 1 Thessalonians 2:12). So when I see specific ways He's working in your life, I should tell you, especially if it will help you stay strong in a difficult situation or make a course correction if needed. The goal of encouragement isn't to build your self-esteem in what you can do, but to increase your faith in what God can do through you.
I encourage you . . .
2. To make me stronger in faith
The gift of encouragement has a rebounding effect—when we give it to another, we receive it back ourselves (Romans 1:12). When I look for God in you, I see Him clearer myself. That strengthens my own beliefs in His power.
I encourage you . . .
3. To help you rejoice
When you're discouraged, it's hard to find reasons to celebrate. But someone else might see things you can't. While I don't want to offer empty clichés to simply placate your pain, (those often make us more discouraged!) I do want to offer genuine hope and reasons to be joyful. True encouragement should result in more joy than you started with (Acts 15:31-32).
I encourage you . . .
4. In obedience to God
God wants me to encourage those worthy of praise and exercise my gift of encouragement (Proverbs 31:30; 1 Thessalonians 5:11). If I see godly character in you, but I'm too stingy or proud to commend it, I'm failing to do the good I know to do (James 4:17).
I encourage you . . .
5. For God's glory
The highest purpose in using any of our gifts is to glorify the Father through Jesus Christ (1 Peter 4:10-11). I give Him honor when I point out the work He is doing or intends to do in you (1 Corinthians 14:25).
More verses on encouragement
Acts 13:15; Acts 14:22; Acts 18:27; Romans 15:4-5; Ephesians 6:22; Philippians 2:1; 1 Thessalonians 4:18, 1 Thessalonians 5:14; 1 Timothy 5:1; Hebrews 10:25
Ultimately, I can't rely on my own words or wisdom to properly encourage you, but I can trust the Holy Spirit to activate the gift I want to give you.
Through Him, you can receive hope, be reminded of God's goodness, and trust His grace to cover every situation.
For an excellent book on encouraging others, read Sam Crabtree's Practicing Affirmation: God-Centered Praise of Those Who Are Not God. Read a short excerpt here.
Tweetables
"5 reasons to encourage each other http://wp.me/p1Su7F-2UJ @DoNotDepart #SpiritualGifts"
click here to tweet
"Encourage others not for what they can do, but for what God can do in them. http://wp.me/p1Su7F-2UJ @DoNotDepart #SpiritualGifts"
click here to tweet
Who can you encourage today? (Hint: Who will you be near?) Who has encouraged you this week? Please share here.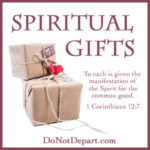 .