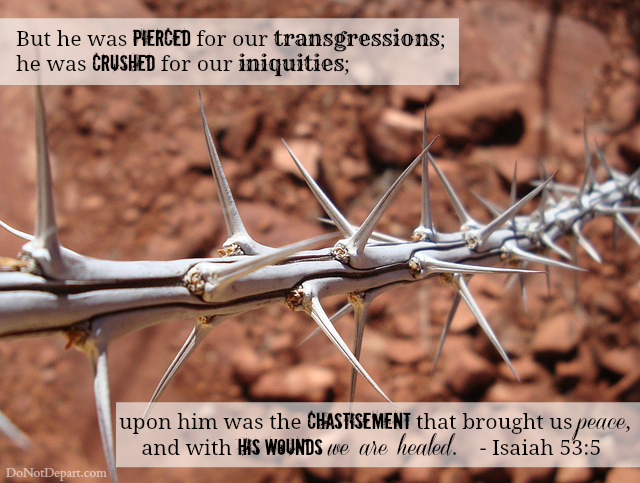 Almost from the moment Eve ate from the fruit of the tree of the knowledge of good and evil, humans have known they needed help. They needed Someone sent from God, anointed to save them.
I find it significant that the first time God speaks of the One to come, He is talking to the face of evil itself. In Genesis 3:15, God says to the serpent:
I will put enmity between you and the woman,
and between your offspring and her offspring;
he shall bruise your head,
and you shall bruise his heel.
Genesis 3:15
Evil had just entered humanity, and God already had a plan for defeating the enemy forever!
What is a Messiah?
The Old Testament is full of prophecies of a messiah to come; some scholars count over 300 prophecies. You can take a look at some of them in this useful chart.
But what is a messiah?
Messiah literally means "anointed one." Christos (χριστος) is the Greek word for Messiah, so when we say Jesus Christ, we are actually saying "Jesus the Messiah" or "Jesus the Anointed One."
Early in His earthly ministry, Jesus Himself declared that He was anointed. Just after He returned from being tempted in the desert, He went to the synagogue and stood before the people and read Isaiah 61:1-2.
And the scroll of the prophet Isaiah was given to him. He unrolled the scroll and found the place where it was written,

"The Spirit of the Lord is upon me,
because he has anointed me
to proclaim good news to the poor.
He has sent me to proclaim liberty to the captives
and recovering of sight to the blind,
to set at liberty those who are oppressed,
to proclaim the year of the Lord's favor."

And he rolled up the scroll and gave it back to the attendant and sat down. And the eyes of all in the synagogue were fixed on him. And he began to say to them, "Today this Scripture has been fulfilled in your hearing.".

– Luke 4:17-21
From His birth (Micah 5:2/Matthew 2:1) to His ascension (Psalm 68:18/Mark 16:19), Jesus fulfilled every Messianic prophecy in the Old Testament scriptures.
Anointed to Be Our Savior
Jesus our Messiah did not come as a political savior. He did not release His people from the governments that enslaved them. His purpose was and is far greater. Jesus' purpose is eternal.
Just as God told the serpent in the Garden of Eden, His purpose for His Anointed One was to crush evil.
One of the most well known passages concerning the prophesied Messiah is Isaiah 53:
1 Who has believed what he has heard from us?
And to whom has the arm of the Lord been revealed?
2 For he grew up before him like a young plant,
and like a root out of dry ground;
he had no form or majesty that we should look at him,
and no beauty that we should desire him.
3 He was despised and rejected by men;
a man of sorrows, and acquainted withgrief;
and as one from whom men hide their faces
he was despised, and we esteemed him not.

4 Surely he has borne our griefs
and carried our sorrows;
yet we esteemed him stricken,
smitten by God, and afflicted.
5 But he was pierced for our transgressions;
he was crushed for our iniquities;
upon him was the chastisement that brought us peace,
and with his wounds we are healed.
6 All we like sheep have gone astray;
we have turned—every one—to his own way;
and the Lord has laid on him
the iniquity of us all.

7 He was oppressed, and he was afflicted,
yet he opened not his mouth;
like a lamb that is led to the slaughter,
and like a sheep that before its shearers is silent,
so he opened not his mouth.
8 By oppression and judgment he was taken away;
and as for his generation, who considered
that he was cut off out of the land of the living,
stricken for the transgression of my people?
9 And they made his grave with the wicked
and with a rich man in his death,
although he had done no violence,
and there was no deceit in his mouth.

10 Yet it was the will of the Lord to crush him;
he has put him to grief;
when his soul makes an offering for guilt,
he shall see his offspring; he shall prolong his days;
the will of the Lord shall prosper in his hand.
11 Out of the anguish of his soul he shall see and be satisfied;
by his knowledge shall the righteous one, my servant,
make many to be accounted righteous,
and he shall bear their iniquities.
12 Therefore I will divide him a portion with the many,
and he shall divide the spoil with the strong,
because he poured out his soul to death
and was numbered with the transgressors;
yet he bore the sin of many,
and makes intercession for the transgressors.

– Isaiah 53:1-12
Jesus our Messiah bore our every sin. He was anointed to make intercession for us with His very life, and save us from an eternity of separation from God.
Jesus is the Anointed Savior Who was promised from the beginning – our Messiah and our hope!