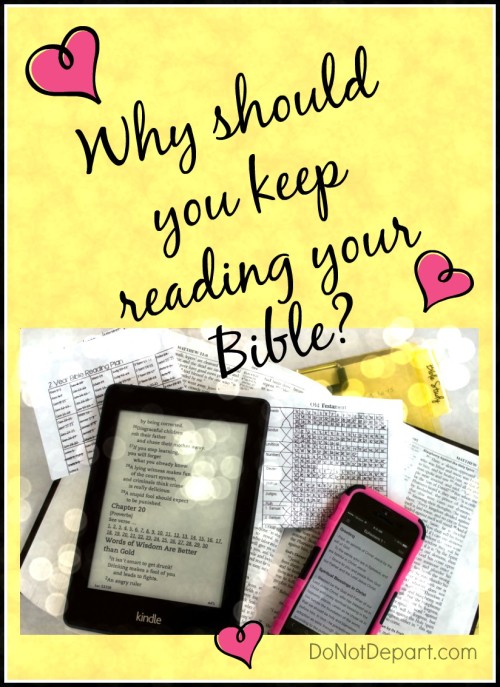 Once I finish a book, I don't usually reread it. The surprises are blown, and I'm ready for something new.
But even with the occasional books I do reread, the second (or third) reading is never the same as the first time. I may catch a few details I missed the first pass, and I may be reminded of truths I need to live more, but subsequent readings are quicker and often just skimmed.
So do we need to reread the Bible over and over?
We already know the major stories.
The essential themes are familiar by now.
It's not quick (it takes me three years to get through

my two-year plan

; I long ago gave up one year).
And it's not necessarily easier each time (Isaiah 55:8-9). Sometimes the more we read,

the less we understand

.
Yet we can't stay away from this book. We memorize it; we pray it; we preach it to ourselves.
Here's why:
The more we read the Bible, the more we see God. And the more we see God, the more we love God.

We can never get too much of Love.
I know, I know—there are many ways to see God. Through nature. Through other people. Through direct experiences with Him. I love these ways. I need these ways. The words written about God are not the only way to find Him. After all, in Him we don't just read; in Him we actually live and move and have our being (Acts 17:28).
Even Jesus Himself pointed this out. When He showed up on earth as God in the flesh, He wanted those around Him to come directly to Him, to believe because of the works He was doing. He chastised those who were just searching the Scriptures and yet not coming to Him (John 5:39-40).
We don't want to make that same mistake: to miss Jesus because we're keeping our heads in a book, even a book about Him.
So as we read, let's also look around. Look up. Look in. Ask that the written words point us to the Living Word.
Even in the old stories, regularly discover new things about yourself, about others, about God
Be open to surprises through words that are not static but are breathed-out mercies each morning from God
Invite God to walk daily with you in fresh stories yet to be lived, centering in the present, reframing the past, hoping in the future
Knowing the Bible isn't the end goal. Knowing God is. The Bible is a means to that goal. As Jesus used Scripture with the two men on the road to Emmaus, we also want Scripture to better enlighten us about Jesus (Luke 24:27).
As A. W. Tozer said,
"What comes into our minds when we think about God is the most important thing about us."
The God we worship determines the kind of people we become. We're not made in the image of a book, but in the image of the living God. It's not the Bible we worship; that's the book we study. It's the God we're after, and the book points to Him (John 20:30-31).
Let's read the Bible not to be known as biblical people, but to become godly people. Because we don't want to just learn the Bible, or even just learn about God, we want to live like God, to be with God, to love like God.
And if the book can help us get there, may we read on and on and on.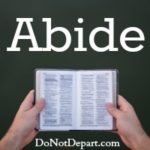 All month long we're discussing reasons to abide in the Word.
Do you ever reread the same books?
What are some of your reasons for continuing to read the Bible again and again (or not)?
Please share in the comments.