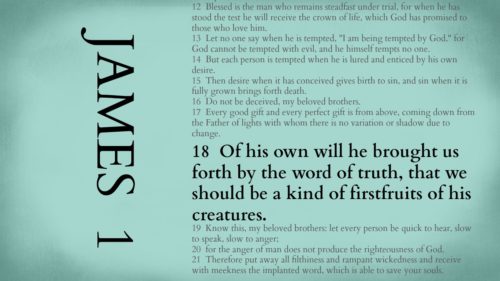 [click on picture above then download for full-size wallpaper]
MEMORIZE
Plan A:
Of his own will he brought us forth by the word of truth, that we should be a kind of firstfruits of his creatures.
James 1:18 (ESV)
Plan B:
Know this, my beloved brothers: let every person be quick to hear, slow to speak, slow to anger;
James 1:19 (ESV)
MEDITATE
We can't trust all of our desires (some lead to sin, James 1:14-15). But all of God's desires are good (James 1:17), including this one: God wants us to be His people. We are His on purpose.
As you memorize this week, remember that you are here by God's perfect will.
PRAY
Lord,
I thank you for Your willingness and power to bring us into Your family. May we give You all the praise this week as we remember our origins.