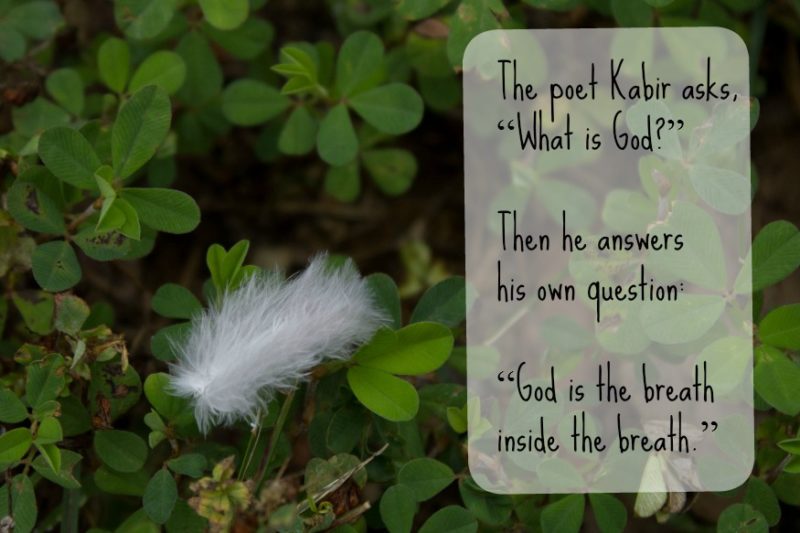 A BREATHLESS SUMMER?
It's summer, traditionally a season for less stress and more relaxation, more time off. But are you already out of breath? Is your schedule running you instead of you running your schedule?
When we leave too little breathing room in our lives, we feel drained. Near the end of my father's death with lung cancer, it hurt to watch him breathe. The in-and-out of air was slow and tiring. Instead of invigorating his body with fresh oxygen, breathing seemed like dreary work.
Our lives can become that way as well when we don't guard our spiritual breathing.
BREATH IS SPIRIT
Our breath is a gift from God, one of our very first.
Then the LORD God formed the man of dust from the ground and breathed into his nostrils the breath of life, and the man became a living creature.
Genesis 2:7
In the New Testament, Paul taught the Athenians about our marvelous Creator who gives us life and breath and everything (Acts 17:25). In the Greek, "breath" here is from pnoe (G4157). It also means a breeze, wind.
In John 3:8 the root word pneo (G4154—to breathe hard, breeze, blow) and its more common derivative pneuma (G4151—a current of air, breath, breeze, spirit) are both used.
The wind [G4151] blows [G4154] where it wishes, and you hear its sound, but you do not know where it comes from or where it goes. So it is with everyone who is born of the Spirit [4151].
John 3:8
A literal translation could be:
The breath breathes hard. . . .  We are brought forth from the Breath.
We are born of that Breath. That Wind. That Spirit. Just as we live physically by breathing in oxygen 10-20 times per minute, so we breathe in God continually for sustained spiritual life.
LET THE WIND REMIND US
So when you're outside this week, pay attention to the wind. Look for signs of it around you.
Are tree limbs dancing in praise to its rhythm?
Are birds resting their wings in its current?
Do you feel it blowing away your sweat, cooling down your body?
Let the wind remind you to breathe in God's grace. And breathe out His praise.
Awaken to God's Spirit breathing through your world. Look for signs of His movement.
Do you see evidence of His grace in people you live or work with?
Are you breathing in His gifts with each lungful of air?
Can you breathe out honor to Him through your mouth for His provisions?
Just as we can't see the wind, neither can we physically see God. But we know both are here through other ways.
God is very real, leaving His fingerprints all over our world and hearts to remind us of His presence. Pause periodically to notice and praise.
Each day we take around 26,000 breaths. Can we use a few this week to give God thanks for them?
Praise Him for His splendor
Honor Him for His goodness
Bless Him for His love
BIBLE STUDY SUGGESTIONS
Take your Bible (outside, if possible!) and slowly read Psalm 145.
Look up wind/spirit/breath in a concordance.
Close your eyes. Do you feel any wind on your face? Tune in to your breathing.
Pray. Thank God for how He is breathing through your life, in ways you feel and in ways you don't.
More verses to read: Job 33:4; Psalm 34:1-7; Psalm 51:15; Psalm 67:3-5; Psalm 71:5-8; Psalm 150; Ezekiel 37:5; Amos 4:13; Mark 4:36-41; John 2:21-22.
Pick up a physical object to bring inside. Perhaps a leaf blowing across the lawn. Or a rock that stayed put through a storm. Or a wildflower that sways when you blow it. Let this object remind you this week to stay aware of the invisible Spirit breathing through you.
QUESTION
When is the last time you've been really out of breath, physically or spiritually? Please leave a comment below of how God breathes through your life. We'd love to hear.
More:
5 things I learned from my "Year of Deep Breathing"