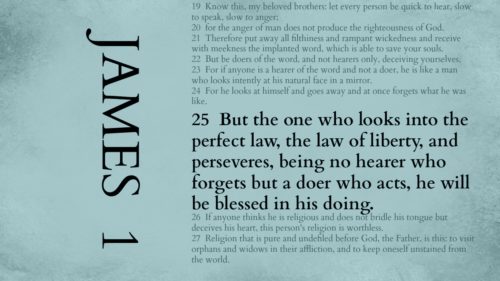 [click on picture above then download for full-size wallpaper]
MEMORIZE
Plan A:
But the one who looks into the perfect law, the law of liberty, and perseveres, being no hearer who forgets but a doer who acts, he will be blessed in his doing.
James 1:25 (ESV)
Plan B:
Religion that is pure and undefiled before God, the Father, is this: to visit orphans and widows in their affliction, and to keep oneself unstained from the world.
James 1:27 (ESV)
MEDITATE
If we want to be blessed—and who doesn't?—then we need to get this straight:
The blessing is in the doing.
James has been consistent with that message over and over in our memory verses the past few weeks.
And here it is again this week, stronger than ever. Don't just hear it, talk about it, think about it: Do it!
PRAY
Lord,
What is it that you're wanting me to do? Please lay it plainly on my heart, then enact it through my body. I want to receive the blessing you've promised.