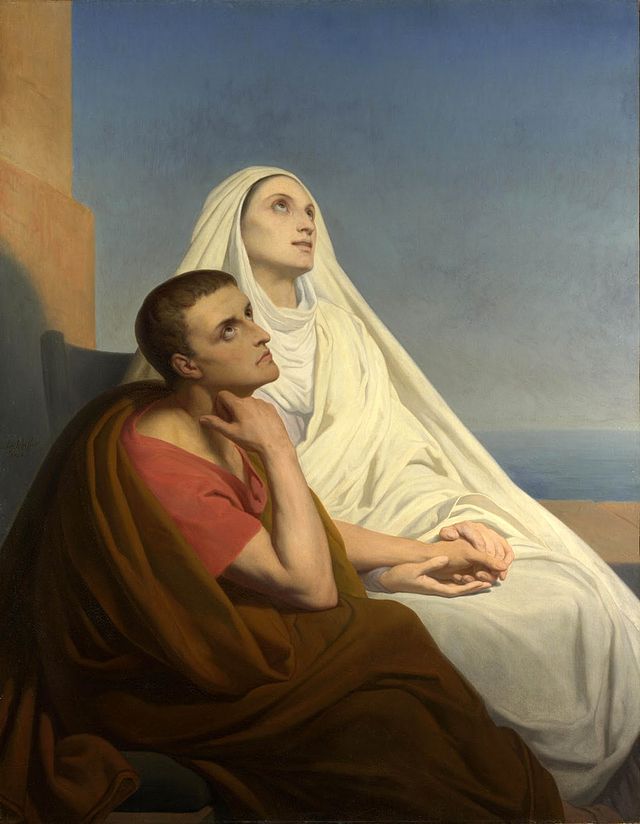 …let your adorning be the hidden person of the heart with the imperishable beauty of a gentle and quiet spirit, which in God's sight is very precious. 1 Peter 3:4
You may have never heard of Monica of Hippo, but you have probably heard of her famous son, Augustine.
Augustine lived from 354-430 AD. He was an extremely influential theologian, his most enduring works being [amazon_link id="0140448942″ target="_blank" ]City of God[/amazon_link] and [amazon_link id="0199537828″ target="_blank" ]Confessions[/amazon_link]. But Augustine was not always a theologian. In fact, he was not always a Christian.
Monica's Early Years and Marriage
Most of what is known about Augustine's mother Monica was written by him in Confessions. Monica was a believer from a young age through the influence of a devout elderly maid-servant who helped to raise her. The Lord's hand on Monica was evident:
"Brought up thus modestly and soberly, and made subject rather by Thee to her parents, than by her parents to Thee…" Confessions, Book IX
When she was old enough, Monica's family arranged for her to marry a man who was not a believer. Despite his lack of faith, his adulterous behavior, and his temper, Monica quietly loved and served her husband.
"…so soon as she was of marriageable age, being bestowed upon a husband, she served him as her lord; and did her diligence to win him unto Thee, preaching Thee unto him by her conversation; by which Thou ornamentedst her, making her reverently amiable, and admirable unto her husband. And she so endured the wronging of her bed as never to have had any quarrel thereon. For she looked for Thy mercy upon him, that believing in Thee he might be made chaste." Confessions, Book IX
Augustine's father converted to Christianity just before he died.
Mother of Augustine
Monica and her husband had three children. Her concern for the spiritual state of her non-believing family members was the cause of many tears, and spurred her to pray for them constantly.
After her son Augustine left home as a young man, he turned away from the Christian faith she had taught him and became a pagan. His early adult years were replete with hedonism, producing, among other things, a son from his mistress. Yet Monica remained fervent in her prayers for her son, never wavering no matter how far he strayed.
When he was 32 years old, after great spiritual questioning and struggle which he documents in details in Confessions, Augustine became a Christian. The final turning point came one day as he sat beneath a fig tree weeping and praying through his struggles. He heard a prompting "Take up and read. Take up and read." So he returned to where he had laid a volume of scripture, picked it up and read the first scripture he saw:
Let us walk properly as in the daytime, not in orgies and drunkenness, not in sexual immorality and sensuality, not in quarreling and jealousy. But put on the Lord Jesus Christ, and make no provision for the flesh, to gratify its desires. – Romans 13:13-14
Augustine writes that after reading these verses…
"No further would I read; nor needed I: for instantly at the end of this sentence, by a light as it were of serenity infused into my heart, all the darkness of doubt vanished away." Confessions, Book XIII
When Augustine told his mother what had happened he writes that "she leaps for joy, and triumpheth, and blesseth Thee, Who are able to do above that which we ask or think." At long last Monica's prayers were answered.
Not long after Augustine became a Christian, Monica died following a short illness, rejoicing that both she and her son would spend all eternity in God's presence.
A Quiet Faith Matters
Monica's quiet faith did not mean silence. She was ready at any time to give an accounting of her beliefs. She did not hesitate to speak of the Lord. But she led a quiet life centered around her home.
Monica did not know that her wayward son Augustine would one day be considered one of the great Church Fathers and theologians. All she knew was that she loved the Lord, and she loved her son. Her faithful prayers, and her steady witness by how she lived her own life, had an impact that lives on to this day through her son's influence on countless believers.
God calls some of us to very visible public service. But most of us, like Monica, lead quiet, private lives. God wants to use you in a mighty way in the very rooms of your home! The choices you make as you interact with your family members have consequences that impact eternity… for you, for them, and for all the people they will touch over their lifetimes.