Sometimes, life hurts… physically.
Some of us deal with intermittent and mild pain… others, the chronic and debilitating kind.
And when we're experiencing those dark moments of despair and ache, it can leave us wondering, "Where is God?"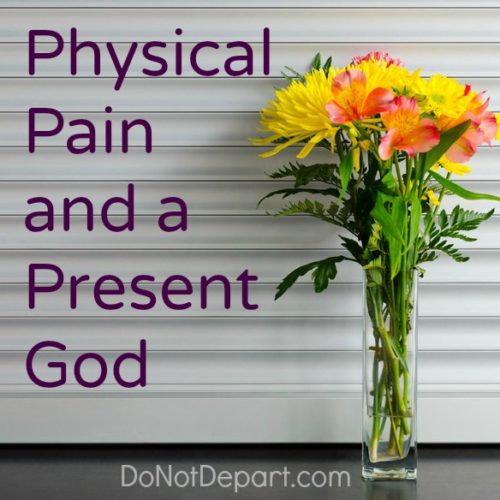 God is near.
The answer is simple, though we make it complicated because sometimes we don't
feel
Him.
Do you struggle with being sensitive to His presence when your attention is held captive by the physical? I certainly have!
Even David had this struggle… in several of the Psalms, David asks the question, "Where are you, God?" (My paraphrase.)
"How long, O LORD? Will you forget me forever? How long will you hide your face from me?" Psalm 13:1
But after some prayer, David answers his own questions..  He knows truly that God is with him— that God hasn't forgotten him. David places his hope in the victory God gives.
"But I have trusted in your steadfast love; my heart shall rejoice in your salvation. I will sing to the LORD, because he has dealt bountifully with me." (Psalm 13:5,6)
Like David, we can be reminded of God's nearness with some focused prayer and praise… And though it's difficult, we can do this even in our anguish.
God reveals His presence in our pain when:
1. He teaches us and speaks to us, reminding us to seek Him…
"I have learned to kiss the wave that throws me against the Rock of Ages." -Charles Spurgeon
Every ache is a great reminder to "kiss the waves."  Each wave brings a choice… be knocked down and yanked away from the Rock by the tide of pain OR reach out and cling to God.
His presence reminds us to focus on seeking Him.
2. He reminds us that we are His…
A few years ago, I wrote a (free) online Bible study on the book of Job and interviewed two dear online friends with chronic pain. God has used their pain to spiritually refine and mature them.
In the interview, Susie said, "He was using Pain to focus my attention on who I truly was; created BeautyFull. Oh, He Knows me. I am gratefully in awe of the Love it takes to show me just how well." LINK
And Jen said, "God has taught me that alone I am weak and shattered; however, He has also taught me that with Him I am pieced back together and He fills in all my gaps. Through my brokenness, I am able to shine His light."
Ultimately, the pain these ladies endure have forced them to give full attention to God and their identity. God has reached out to show them how loved they are, and who they are. What a great inspiration these ladies are to others who are hurting!
His presence reminds us, we're overcomers.
3. He reminds us of who He is.
"God is our refuge and strength, a very present help in trouble." Psalm 46:1
Pain and adversity often breed stronger Christians.
Through we may not like growing this way, it is an excellent opportunity to pursue God intimately. And when He is pursued He will be found.  When we are weak, His strength can shine more fully through us… teaching us and others more about His:
love
power
comfort
strengthening aid
grace
trustworthiness
victory (physical, spiritual, eternal…)
"For the sake of Christ, then, I am content with weaknesses, insults, hardships, persecutions, and calamities. For when I am weak, then I am strong." 2 Cor 12:10
Yes, our weakness shines His strength. He is the Strong One.
His presence reminds us, God is love.
Where is God, in our pain?
Near us… reminding us.
How has God reminded you of His presence when you've faced pain?