Let's memorize John 15 together!
Whether you're a faithful memorizer or you've never memorized a Bible verse before, this memory challenge is for you.
Soaking in these familiar words of Jesus is a great way to spend time with Him and grow in faith, even if your goal isn't to memorize every word. We'll concentrate on an average of two verses a week (print your schedule here) with two built-in week breaks, all beginning June 2.
For extra options, we welcome you to join our Facebook community where we actively encourage each other to stick with it. We tweet using #HideHisWord and practice the verses using Scripture Typer.
RESOURCES
Print these free resources now to get prepared. Resources are now in 5 versions! Memorize in the translation of your choice.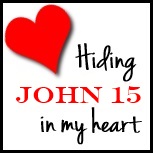 INVITE OTHERS
Will you help us spread the word on your blog or your favorite social media?
"Memorize John 15 with @DoNotDepart. Details here http://wp.me/p1Su7F-2Vv #HideHisWord"
Click here to tweet
Link-up coming here June 23 for your blog posts on why you're memorizing John 15 or anything about scripture memory.
Questions? Comments? We'd love to hear you're joining in!
REGISTRATION NOW CLOSED