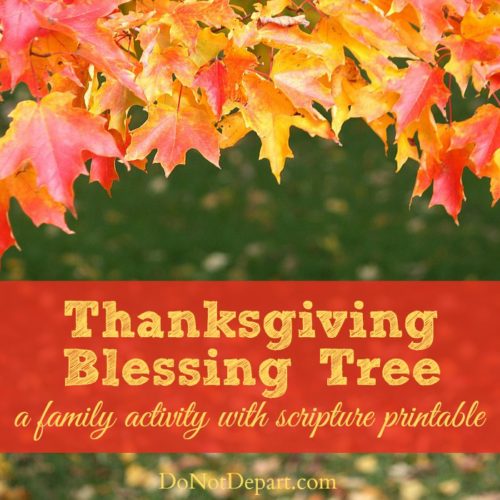 A Thanksgiving blessing tree is a unique way to decorate for Thanksgiving, that also nurtures a heart of gratitude in your children.
This is an activity we used to do every year when my children were small, and that we are reviving this year. After all, you are never too old to be thankful! In the past I have traced leaves by hand on construction paper, but this year I made a leaf printable, with scriptures on one side of each leaf.
The premise is simple – create a "tree" out of bare branches, and attach leaves on which are written things for which you are thankful. Each leaf also has a scripture on it. Reading aloud each person's blessings around the Thanksgiving table is a family tradition I think you'll truly enjoy.
Thanksgiving Tree
Materials
vase or flower pot
twigs or small branches
sand, floral marbles or small rocks to weight down your container
card stock or construction paper
scissors
crayons (if using white paper)
pens
tape
Instructions
1) Print your leaves.  I like to print enough for at least three leaves per person, but we often use a lot more. If you can, use card stock or construction paper (see special instructions for printing on construction paper here) so the leaves will hold up better, but if all you have is printer paper, that will work too.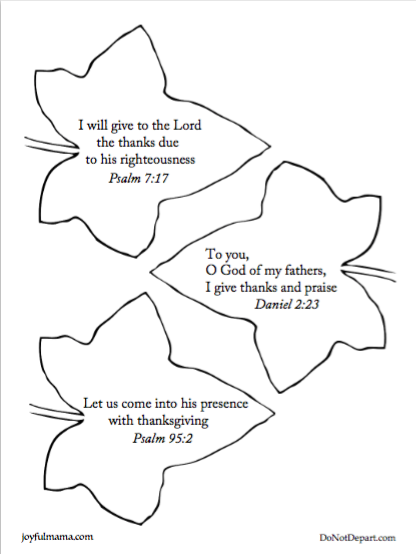 2) Cut out the leaves. If you give this job to your children, remember to focus on being thankful that they can use scissors safely and don't worry too much about whether the leaves are cut perfectly. :-)
3) If you have printed on white paper or card stock, have the kids color the leaves red, yellow, orange, brown and maybe even a few green.
4) Find a few bare branches in your yard and place them in a vase or pretty flower pot. Weight the container and stabilize the branches by pouring sand, floral marbles or rocks into your container while holding the branches in position. Your "tree" is ready for leaves!
5) On Thanksgiving day have your children bring around baskets or trays with the leaves and pens to your guests. Each person can write something he or she is thankful for on the blank side of a leaf. The more leaves on your tree the better!
6) Tape the stem of each leaf onto a branch of your tree.
7) Take some time during or after the meal to read the leaves aloud.
We would love to see pictures of your Thanksgiving trees! Share them in the comments or on our facebook page!
What family traditions do you have that help you focus on your blessings at Thanksgiving?