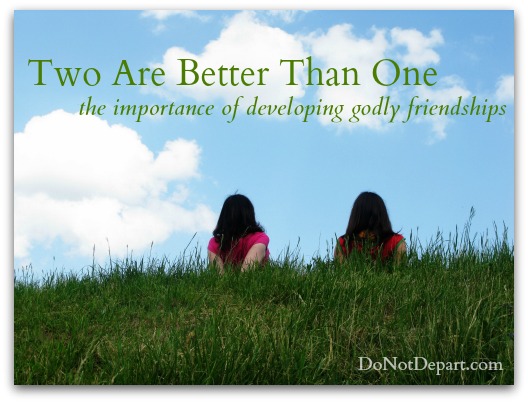 We've been talking this month about community. There is evidence in scripture of many levels of community in which we can participate and serve:
the world (John 3:16)
a local fellowship of believers (Luke 10:1-2)
a smaller group (Matthew 20:17)
But what about that very personal level? What about intimate friend relationships with two or three other believers?
Close Friendship in Scripture
There are a number of examples of close relationships in the bible:
Moses and Aaron – Exodus 4:13-15
David and Jonathan – 1 Samuel 23:16-17
Jesus spent extra time with Peter, James and John – Mark 5:47 (healing Jairus' daughter), Matthew 17:1 (the transfiguration), Mathew 26:37 (Garden of Gethsemane)
Ecclesiastes 4:9-12 says: 
Two are better than one, because they have a good reward for their toil. For if they fall, one will lift up his fellow. But woe to him who is alone when he falls and has not another to lift him up! Again, if two lie together, they keep warm, but how can one keep warm alone? And though a man might prevail against one who is alone, two will withstand him—a threefold cord is not quickly broken.
Two friends make a threefold cord? I believe it is because God is the third part of that strong relationship.
Why is Close Friendship Important for Believers?
Time spent one on one allows us to go deeper as we grow toward Christ. There is freedom for a higher level of vulnerability than that which is usually comfortable in a group, even in a small group such as a bible study.
Close friends can help hold you accountable and encourage you. They will also be more aware of and able to help when practical needs arise in your life. They will pray for you.
Ways to Grow in Godly Friendship
meet together – make time just to be together. Encourage one another in the journey of life. (Romans 1:12, Hebrews 3:13)
eat together – I just love it that Jesus cooked up breakfast for a few of the disciples! Share a meal with a friend. (John 21:12)
serve together – encourage one another to live a life of service; serve each other; even go out and serve together! (Hebrews 10:24)
study together – a precious way for God-given friends to grow together is by studying His Word together. Each of us has a unique perspective to share (2 Timothy 3:16-17, Proverbs 27:17)
pray together – spend time in regular prayer with your close friend. In this age of technology distance is no obstacle. I meet weekly over skype to pray with a dear friend who lives 3000 miles away! (Matthew 18:19-20)
Do you have this kind of relationship? Nurture it. Set time aside. Make time.
What if I Don't Have a Close Friend?
But what if you don't have any close friends right now? Just as God seeks us out, it is okay for you to seek out friends. You can initiate a friendship!
Think for a moment…. whom have you met that you just "click" with? Pray and ask the Lord to show you one or more people to make a point of growing in relationship with. Seek out believers who can nurture you on your faith journey. This sort of relationship should be with someone of the same sex; a close relationship with someone of the opposite sex should be limited to your spouse.
It is worth the effort to develop godly friendships for mutual encouragement and blessing as you grow in Christ!
How have you found and nurtured close friendships within the body of Christ?
Please share your thoughts in the comments.