You've just moved to a new town, and you're encountering obstacles to finding a new church community for your family.
Or perhaps you have a child with special needs, and you need a church equipped with resources or communities specifically organized to provide support.
Or medical issues are preventing you from attending group events.
Maybe you've even endured troublesome circumstances in the past with communities gone wrong, and you desperately need to find a healthy community.
Whatever might have happened, you're having trouble finding community. What do you do now?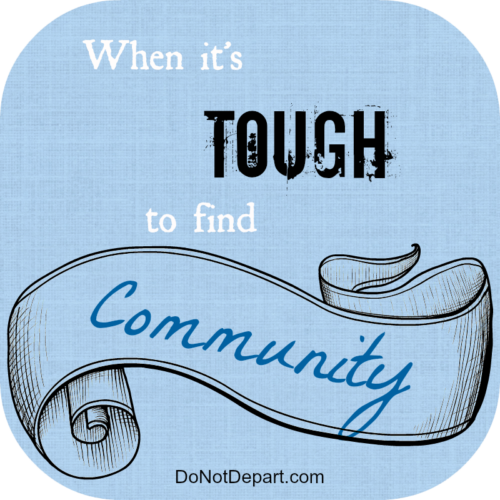 What To Do When Finding Community is Tough
Stay faithful. Finding a solid community is hard. Keep searching, keep believing. "But encourage one another daily, as long as it is called "Today," so that none of you may be hardened by sin's deceitfulness." – Hebrews 3:13 (NIV)
Search for online communities. While online community cannot completely take the place of face-to-face fellowship, online groups are amazing when they boost, encourage, and teach.
-Online communities we recommend: HelloMornings, (in)courage, SheReadsTruth, the Hide His Word Facebook group, and any of your favorite blogs!
Seek community organically. Community in general has surprised me with its growing importance and reliability. But, I have found myself attempting to create bonds where there isn't a realistic opportunity, especially in mentoring. I'm still learning best options here, but sometimes I find I need to release strict expectations and take some risks in joining or contributing to new communities. A small step keeps me moving forward into deeper community.
Read. Read His Word, and read godly books and articles. Reading broadens my perspectives and knowledge base, like community can. Even better after you read: find someone to discuss what you've read together.
Pray. When I'm struggling to connect, I remind myself to pray. Pray for the right space for me and for me to offer the right contributions. Pray for the members of my community and for us to love and uplift one another (2 Thessalonians 1:3). Prayer causes internal reflection and I feel myself centering focus back on God when I'm lonely or feel excluded.
Hold on to hope. If you've searched for weeks, months, years for a welcoming community, you might feel discouraged. Grab that hope God gives and cling to it. Community is worth it (Hebrews 10:23-25).
Seek Him. Even when community isn't readily available, we can always commune with God (1 Thessalonians 5:16-18).
"For where two or three are gathered in my name, there am I among them." – Matthew 18:20
Have you ever been through a time when you weren't part of a community or couldn't be part of one? What did you do to find community? Your stories can help encourage others here.