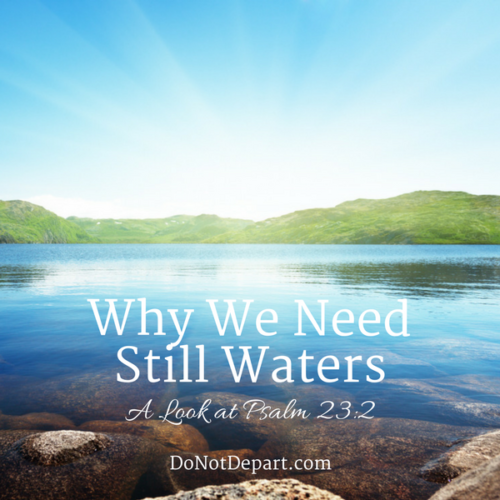 I stand by the side of our pond and listen. The songs of the birds and bugs mingle with the gentle rustle of leaves shifting in the breeze. I hear a splash as a fish tail disappears back under the surface of the water. A small turtle suns itself on a rock, watching two ducks float by.
It is easy to collect my thoughts by the pond — tall trees whose roots drink happily from this oasis shade my head from the hot sun. Berry vines thrive and wildflowers provide splashes of color. The pond is a place of peace, a retreat from the demands of life — even life within our home a few fields over.
Psalm 23:2 provides a beautiful picture of peaceful waters: "He makes me lie down in green pastures. He leads me beside still waters."
The gentle imagery of the Good Shepherd tenderly leading his flock to a place of rest is one that has been cherished throughout the ages. The word often translated as "still" in English refers not so much to water that is not moving at all (for that would be stagnant water) but to water by which one can rest. The Hebrew word is מְנוּחָה (menuchah), and other instances of it can be found in verses like Psalm 132:14: "This is my resting place forever; here I will dwell, for I have desired it."
What do the still waters of God offer us?
Nourishment
Without water we will die. Water gives life. Living water gives eternal life. The living water is the Holy Spirit, dwelling in us.
"On the last day of the feast, the great day, Jesus stood up and cried out, "If anyone thirsts, let him come to me and drink. Whoever believes in me, as the Scripture has said, 'Out of his heart will flow rivers of living water.'" Now this he said about the Spirit, whom those who believed in him were to receive, for as yet the Spirit had not been given, because Jesus was not yet glorified." John 4:37-39
Freedom
We are not forced to drink of the water. We are led beside it and have the freedom to choose whether or not to drink deep.
"So if the Son sets you free, you will be free indeed." John 8:36
Stillness
God is present with us every moment of every day. Our busyness does not change that truth. But endless activity dulls our awareness of His presence, and His goodness in the details of our lives. When we rest by the waters and are still before God in our hearts, we return to a place of humility and peace in His presence.
"Be still and know that I am God." Psalm 46:10
Refreshment
That stillness brings refreshment, doesn't it? When I can, I like to I take a ten minute nap mid-afternoon to reboot my brain. I often wake up feeling more energized from a short afternoon sleep than I do when I wake in the morning! This is the kind of refreshment God offers to our hearts, right in the middle of the demands of life.
"I will refresh the weary and satisfy the faint." – Jeremiah 132:14 (NIV)
Clear Vision
When you look down at a pond, you can see on several planes. Not only do you see what is under the water – the deep things – but you also see what is reflected on the surface of the water – yourself. Resting with God in stillness gives us a clearer vision of the things of His kingdom (the deep) and a clearer picture of ourselves.
"However, as it is written: The Spirit searches all things, even the deep things of God. 'What no eye has seen, what no ear has heard,and what no human mind has conceived'—the things God has prepared for those who love him—these are the things God has revealed to us by his Spirit." 1 Corinthians 2:9-10
Allow Him to lead you beside still waters today. He will not force you. You have the freedom to choose to drink deep of His Spirit, to rest in stillness with Him, to be refreshed. Say yes!