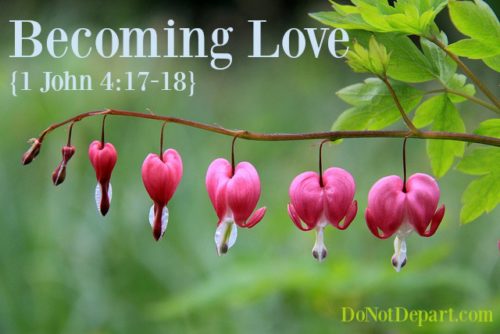 "This is how love is made complete among us so that we will have confidence on the day of judgment: In this world we are like Jesus. There is no fear in love. But perfect love drives out fear, because fear has to do with punishment. The one who fears is not made perfect in love." – 1 John 4:17-18 (NIV)
If you want a book to accompany this study on 1 John 4, I definitely recommend [amazon_link id="1400203759″ target="_blank" ]Love Does[/amazon_link] by Bob Goff. Bob shares awesomely radical stories of living out love in action, all while pointing to God, not to himself.
In this book, Bob's main mission is this: "Love everybody, always."
Why is that his mission? Because of 1 John 4:7-16.
I recently had to the opportunity to hear Bob speak, and he shared this same thing. We love because God loves us (1 John 4:19).
And that love changes things.
But here's the catch: it can't change just one or two things. It has to change everything.
But here's the boost: It doesn't have to change everything all at once. It can change one or two things at a time. (These thoughts are summarized from Bob's book. Definitely read Love Does for more on this.)
I think this is one of my still-here issues, even after years of being a believer. I feel like all my change needed to happen at once. But that's just not change works.
Our lives are the process of love being made complete.
We as people are not perfect.
But, we have a perfect love already in us when we love God and know God loves us (1 John 4:7).
That doesn't mean we act perfectly. That doesn't mean our lives run perfectly.
The New Bible Commentary says:
"The presence of God in us is the way love is 'perfected among us'… In this world we are like him: we are children of the Father and Jesus is our model. The world did not welcome Christ and it does not welcome Christ's people. But on the day of judgment the Judge will understand all." (p. 1407, [amazon_link id="0830814426″ target="_blank" ]New Bible Commentary)[/amazon_link]
What does this mean for our "why" and our "what" of living this love out?
It means we fail at love, but we can keep turning back to Christ's example.
It means we can love the people hard to love.
It means we can accept God's love without guilt, without shame, without condemnation (Romans 8:1-2).
It means can love without fear and love with encouragement, forgiveness, and grace–not punishment (1 John 4:18).
"Fear and love are incompatible. Fear, John proceeds, has to do with punishment, but God's perfect love reassures us." – New Bible Commentary, p. 1407
But I do fear at times. Do you? What about then?
We look to the examples of love we've been give. It's a process. We all need reminders to take steps along to way to that perfect love and that fully developed trust.
Mary was afraid (Luke 1:29-30), but God sent comfort.
Jairus's household was afraid (Mark 5:35-36), but Christ said to believe.
The disciples were afraid (Matthew 14:26-27), but Christ called for courage.
When we fear, we can trust (Psalm 56:3) and remember His love (1 John 4:19). His perfect love that drives out fear.
"For by one sacrifice he has made perfect forever those who are being made holy … Let us draw near to God with a sincere heart and with the full assurance that faith brings, having our hearts sprinkled to cleanse us from a guilty conscience and having our bodies washed with pure water. Let us hold unswervingly to the hope we profess, for he who promised is faithful. And let us consider how we may spur one another on toward love and good deeds, not giving up meeting together, as some are in the habit of doing, but encouraging one another—and all the more as you see the Day approaching." – Hebrews 10:14, 22-25 (NIV, emphasis added)
EXTRA BIBLE STUDY THIS WEEK:
Read through 1 John 4:7-21 again.
Read through each of the verses tagged above in this post.
Get two or three index cards. Write down one verse on each card to pull out of your pocket and read whenever you feel fear creeping in or feel stuck on loving others. (You can use a verse from this post, or choose another that reminds you of His perfect love.) Alternate idea: You can make lockscreens with these verses, phone images, etc. if you prefer to go digital!
How do you see God's perfect love around you? What helps you refocus on His love when you begin to feel fear trying to get in?