Psalm 119, James 3, Psalm 1—these are not verses I've memorized, but just some of the verses I have (unsuccessfully) attempted to memorize!
I've tried the whole memorization thing for years. Each attempt I dove head first, setting aside time every day to read, memorize and review my verses. Each time, I didn't make it past 5 verses.
After distancing myself from the sting of what I felt was failure, and then doing a bit of research, I have established a four-pronged attack which I have found (finally!) successful in the area of Scripture memorization. (The following is a shortened excerpt from Savoring Living Water: How to have an effective quiet time by Lara Williams and myself.)
Hear it.

We need to hear His Word. In order to have that passage stick into our minds and bury into our hearts, our ears need to hear it over and over again.

I keep the audio version of my current memorization passage on my computer and on my phone. When my hands are busy but my mind is free to listen, I play the track. I listen while I drive. I listen while I clean toilets. I listen while I fold towels. I hear it.

Write it.

Something happens in my brain when my pen hits the paper. Writing things down helps me remember. It helps me remember what I need from the grocery store, and it helps me remember the Scripture I want to memorize.

Each week I take non-­‐fancy, white 4×6 index cards and write out my verse or passage. I typically write it four times on four different cards so I can keep them in four different places.

I also like to write out the verse or passage in my journal every morning. Beneath my prayers of repentance and my words of thanksgiving, I write His Word.

Repetition causes remembrance.

See it.

I take those index cards and post them on my fridge, computer, shower door, and car dashboard. They serve as constant reminders of the truths for which my soul desperately thirsts. Seeing the verses imprints His Word upon my mind.

Speak it.

There is power in the spoken word. When we speak our verses out-­loud they embed deeper into our hearts. This aspect is absolutely vital to successful memorization.

As I "hear" my verses while I fold the never-ending laundry, I talk with the recording. If it's a new verse, I say it a half second behind the track. If I know the verse, I say it alongside the audio.

Speaking my verses solidifies the words in my mind and shows where I need to review. Speaking them enables me to remember.
If you find yourself stuck in your scripture memory efforts, try adding a few of these approaches to your routine and see if it helps!
Are you memorizing Scripture? Have you tried hearing it, writing it, and speaking it? What has worked for you? Share your struggles and tips below in the comments!
Written a post this month about scripture memory? Link it up below. We hope you'll visit some other blogs, be encouraged, and leave some comments along the way!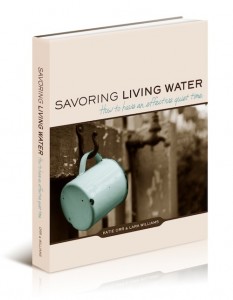 For more tips and encouragement on how to connect with God through Scripture memory, journalling and personal Bible study, Savoring Living Water is available for immediate download to your computer, Kindle, and Nook. Second edition paperback copies are also available for pre-order, and will be shipped mid-January.