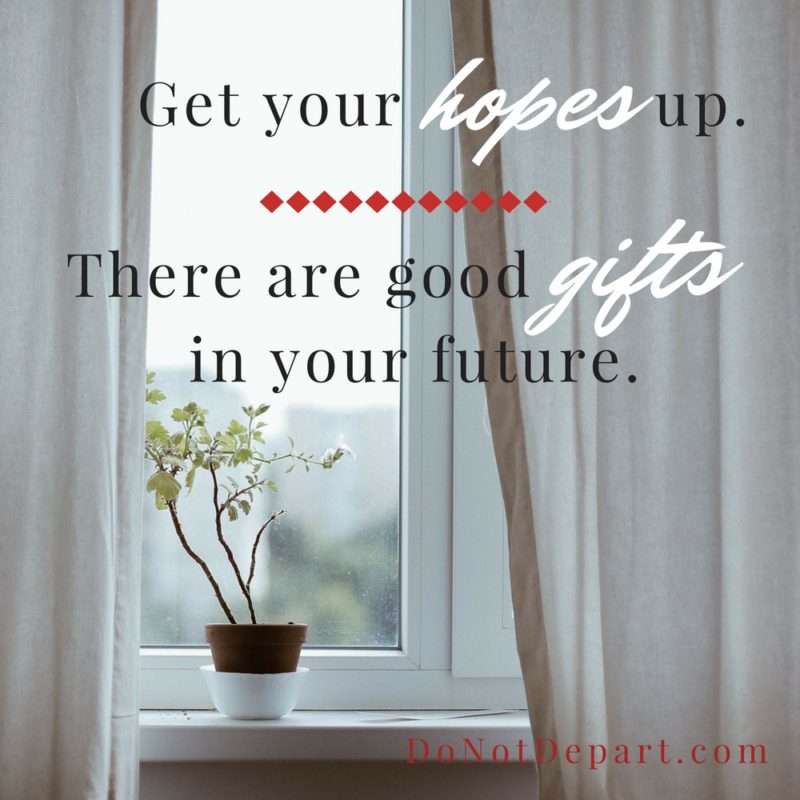 You likely had a schedule for this week, a to-do list (if only in your mind) that you wanted to check off. How is it going so far?
We are lousy predictors of what's next.
Five years ago (five months, five days), could you have predicted the events happening in our country today? In your church? Even in your family?
Unexpected > Expected
We can plan and prepare, but life is often more unexpected than expected. The unknown is out of our control. We don't have the foresight or ability to stockpile enough resources in advance to prepare for every possible scenario.
We're sometimes afraid to get our hopes up.
So how do we deal with this?
We place our hope in God's future grace.
"Surely there is a future, and your hope will not be cut off."
Proverbs 23:18
Gifts Ahead
Thankfully, God does know our future (Jeremiah 29:11). And because He is good, He has good plans in place for what's next (Isaiah 46:4). Even when bad things happen alongside them.
The Lord goes before us and plants good gifts in our future. He has more than enough resources and power to line it up and give it to us at just the right time.
The Gift of Today
"But seek first the kingdom of God and his righteousness, and all these things will be added to you. Therefore do not be anxious about tomorrow, for tomorrow will be anxious for itself. Sufficient for the day is its own trouble."
Matthew 6:33-34
Once we believe in God's provisions for tomorrow, we can better enjoy today. We can stay present, right here and now, knowing that God will handle our future. Does that mean we don't plan for tomorrow? No. We still look ahead and prepare, but we don't have to obsess about it and live in the future. We can live in the day.
The Gift of Giving
"And I am sure of this, that he who began a good work in you will bring it to completion at the day of Jesus Christ."
Philippians 1:6
Once we trust that God will replenish our manna each day, we no longer have to hoard. We're free to fully use today's gifts today, knowing that tomorrow we'll be given a fresh supply. Not wasting or misallocating our resources, but confidently using them in discerning ways. We are more free to meet others' needs when we're less consumed with getting our own needs met. Trust God to finish what He's started in you.
The Gift of Peace
"But this I call to mind, and therefore I have hope: The steadfast love of the LORD never ceases; his mercies never come to an end; they are new every morning; great is your faithfulness."
Lamentations 3:21-23
When we worry about the unknown, we produce anxiety not only for ourselves, but also for those around us. Isn't it more restful instead to hope in God's future provisions? He promises peace to those who rest in Him (Isaiah 26:3). Hoping in His future grace is a vehicle for us to receive that peace in our lives.
God at Every Turn
Each of our lives is a path. Like Billy's path in Bil Keane's Family Circle, it's not a straight line. We can't predict each step and twist along the way.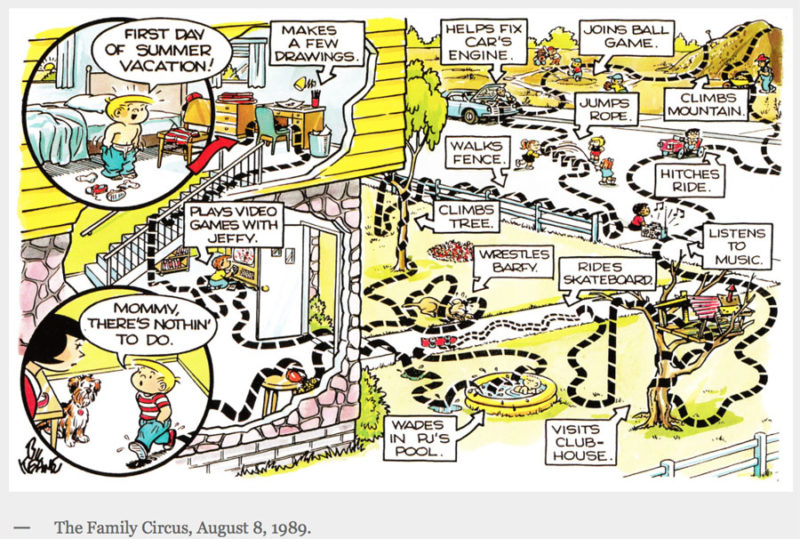 But what we can predict is this: God will show up at every turn.
We start at Point A. God is there. We unexpectedly go next to Point K. God has already been there, too, going before us, planting gifts along the roadside for us to pick up once we arrive. Maybe a new friend or a different job opportunity or a deeper spiritual insight.
These gifts of grace will help us get through the bad stuff, the hard stuff, and even the pleasant surprises.
We can't know what each gift will be, or how it will be wrapped, or what time it will arrive. But we can know it will be good. It will be grace. It will be God.
Count on it. Get your hopes up. There are good gifts in your future.
"Surely goodness and mercy shall follow me all the days of my life, and I shall dwell in the house of the LORD forever."
Psalm 23:6
What concerns you most about the future? What brings you peace about it? Please share in the comments.
Want to read more?
Download a free PDF of "Hope in Future Grace" scriptures