Years ago, I had a friend that kept sheep. Having never spent time with sheep, I had always imagined that they were only darling, innocent balls of sweet white fluff… until I made their acquaintance. I learned that, to a degree, they are indeed those things, but they're also stupid, smelly, clamorous creatures that can be both stubborn and helpless. They even mindlessly follow their leader (even if the leader were to guide them into danger).
After spending just a few minutes with my friend as she called her flock and corralled them into their pen for the night, I was done. The odor and their noisy bleating was enough for me. (I'm not shepherdess material!)
But back to the sheep… Ah, what a picture of us! We are God's flock. Yep… you and I are sheep, sister. Smelly in our sin, stubborn in our ways, and helpless without Jesus, our Good Shepherd and faithful leader.
As unattractive as we can be, aren't we so blessed to be His sheep? He faithfully cares for us and protects us.
And He gives us rest.
The Lord is my shepherd; I shall not want

He makes me lie down in green pastures,

He leads me beside still waters.

He restores my soul.

He leads me in the paths of righteousness for His name's sake. Psa 23:1-3
And that rest… Oh, how we need it! We need to slow down, stop the mindless following and pursuing of non-satisfying things, and instead sit at His feet. We need to do that "one necessary thing" and learn from our Savior, who is both Lamb (and so understands us well) and Shepherd.
I recently did a Bible study with a ladies group that was written by Doreen Moore, author of [amazon_link id="1857924509″ target="_blank" container="" container_class="" ]Good Christians, Good Husbands?[/amazon_link]  Doreen taught us much about sheep and the Shepherd in her Psalm 23 study. One of the things that really strikes me as I'm coming out of the lazy, care-free days of summer and getting back into the swing of fall and all it's responsibilities and demands is this:  God "makes me lie down in green pastures."
Even if I don't feel I could or should rest, spiritually (and even physically) He wants me to. God desires for me to be well rested with a peaceful soul. Although I can sometimes be like Martha, anxious and troubled about many things, He whispers to me… "Come, lie down and rest."
Sheep are nervous, anxious creatures, though! How can we lie down to rest? According to [amazon_link id="0310274419″ target="_blank" container="" container_class="" ]Phillip Keller of A Shepherd Looks at Psalm 23[/amazon_link], we sheep can only rest when we're:
Free of fear
Free of friction
Free of pests
Free from hunger
But the good news? We are spiritually free from all of those things because our Good Shepherd is always on duty. As Psalm 121 says that God "never slumbers nor sleeps" and He protects and satisfies us night and day. And we also know He'll never leave us. Jesus is the Good Shepherd who has secured our eternity with the sacrifice of His life. (John 10:14-15)
So we can safely lie down in the green pastures to rest in His care. It's ok (and good, and necessary!) to slow our pace, sit at His feet, and even lie down in that peaceful lushness.
…Stinky though we may be. (Insert smile here.)
Prayer is a wonderful way to draw close to God and be restored in His green pastures. Just like parents long to hear the voice of their child, so does He. Here are some printable prayer cards to encourage you to pray and seek renewal in Him. On the flip side of each card (not pictured) are the verses that relate to each prayer. (Click under the image to download.)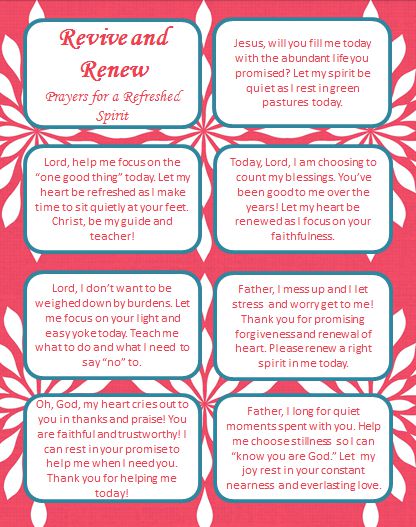 (Click here to download. When printing, choose to print front and back.)
How does knowing that God has prepared a green pasture and the promise of peaceful rest encourage you to slow down today? How is your heart renewed drawing near and resting?