This month in our Revive and Renew series we've promised you printables to help you set your focus on slowing down and sitting at the feet of Jesus. Like Martha, it's easy to narrow our focus to the many things that need to be done. But, like Mary, we must remember what is most needful… pausing and seeking the guidance of Christ!
To kick things off, I've made this printable scripture page for you. Click here to download, then print.
"…You are anxious and troubled about many things, but one thing is necessary." ~ Luke 10:41-42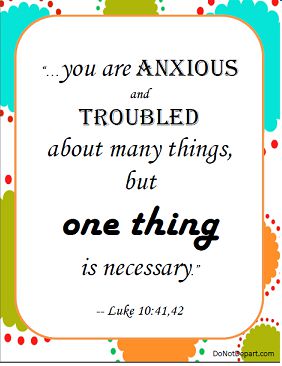 What can you do with this page? Here are some ideas:
Print it on card stock or glossy paper and frame it
Tape it to your bathroom mirror
Hole-punch it and put it in your Bible study notebook
Put it in your daily planner
Tape it over the image on your wall calendar
Put it on your bedside table so you see it when you turn off your morning alarm
Share it with a friend
Of course, these are just a few ideas! What do you plan to do with yours?
How is this verse reminding you to focus less on the "many things" and focus more on the "one thing?"
{Stay tuned for more thoughts, devotional articles, and printables in this month's series: Revive and Renew!}