"May the God of hope fill you with all joy and peace as you trust in him, so that you may overflow with hope by the power of the Holy Spirit." – Romans 15:13 (NIV)
So far this month, we've look at renewing our minds to optimism, gratitude, trusting through uncertainty, and dealing with fear.
Something that remains constant through all of this with renewed minds? Hope.
Hope always makes me think of growth.
Hope makes me think of a seed planted, and even though it hasn't broken ground yet, it waits and hopes and is ready to grow when God says it's time.
Hope reminds me that God may not be physically visible, but we can see Him any time we look for His people sharing His love, and anytime we read His words that love and truth will always lead the way (2 John 3).
"Now faith is confidence in what we hope for and assurance about what we do not see." – Hebrews 11:1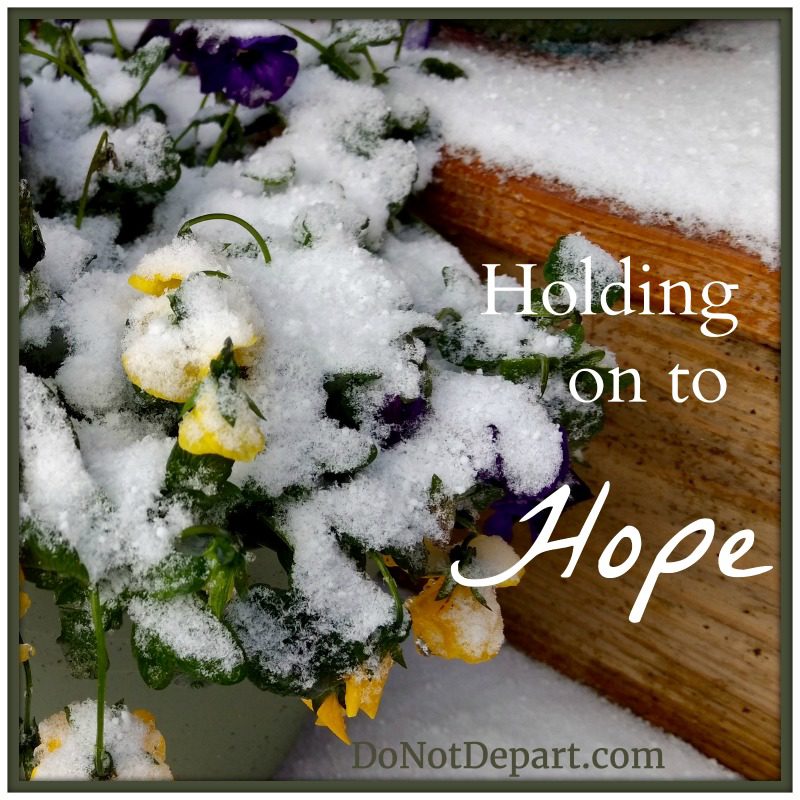 Hope as a Gift
Ali mentioned in her post earlier this month that "optimism is an expression of the joy borne of faith, and repels doubting." Optimism is an expression of joy, which comes from faith. Joy is a gift.
And you know what? Hope is a gift too. It comes from trust and faith and His love for us.
One of our writers, Lisa, recently tweeted a quote from author Caroline Myss that reads: "Always, beyond the darkness, God's greater plan is in motion. That is the truth you need to trust."
God tells us we can always hope in Him (Jeremiah 29:11).
We can take joy from this hope, too (Romans 12:12).
And what is it we hope for, even in the darkness? Hope of His redemption and full adoption (Romans 8:22-25, 1 Peter 1:3-5) and full deliverance (2 Corinthians 1:7,10, 1 Timothy 4:10).
"Not only so, but we ourselves, who have the firstfruits of the Spirit, groan inwardly as we wait eagerly for our adoption to sonship, the redemption of our bodies. For in this hope we were saved. But hope that is seen is no hope at all. Who hopes for what they already have? But if we hope for what we do not yet have, we wait for it patiently." – Romans 8:23-25
Hope as a Mindset
As Patti said in the introduction this month, our habits and choices start in our heads. And even there, they start as thoughts and internal dialogue.
What we say out loud matters.
What we say to ourselves in our heads matters.
We can focus on the worries and conflicts around us, or we can actively look for hope.
And, as human nature is, it's much easier to focus on the bad stuff around us. (Like Lindsay said earlier this month, we can choose what we allow to fill our minds.) So it really is an active intention to open our eyes to hope.
Hope leads to more hope which leads to more and more hope.
A Few Glimmers to Help You Hold On
With all that's going on in our country and our world right now, I've been on the lookout for hope. Like Mister Rogers originally said, "When I was a boy and I would see scary things in the news, my mother would say to me, 'Look for the helpers. You will always find people who are helping.'" We can associate that to hope, too. Let's look for hopers together.
Here are just a few of the many glimmers by God's creation that are helping me open my eyes to hope:
Check out pretty much anything from Brad Montague and his #joyfulrebellion, like the Kid President videos and this hope video. In my experience, God created kids to know hope and spread it joyfully.
Bob Goff, author and believer, spreads hope everywhere he goes. Check out his work on Instagram, Twitter, his book, and his work with Love Does.
Read about the amazing work Be the Bridge is doing to spread hope and unity for all of God's people. You'll leave their Christ-centered site inspired.
And a few more verses on hope:
-Psalm 9:18 – "But God will never forget the needy; the hope of the afflicted will never perish."
-Psalm 62:5-8 – "Yes, my soul, find rest in God;
my hope comes from him.
Truly he is my rock and my salvation;
he is my fortress, I will not be shaken.
My salvation and my honor depend on God;
he is my mighty rock, my refuge.
Trust in him at all times, you people;
pour out your hearts to him,
for God is our refuge."
-Romans 5:1-2 – "Therefore, since we have been justified through faith, we have peace with God through our Lord Jesus Christ, through whom we have gained access by faith into this grace in which we now stand. And we boast in the hope of the glory of God…"
-1 Corinthians 13:13 – "And now these three remain: faith, hope and love. But the greatest of these is love."
What glimmers of hope have you seen lately?