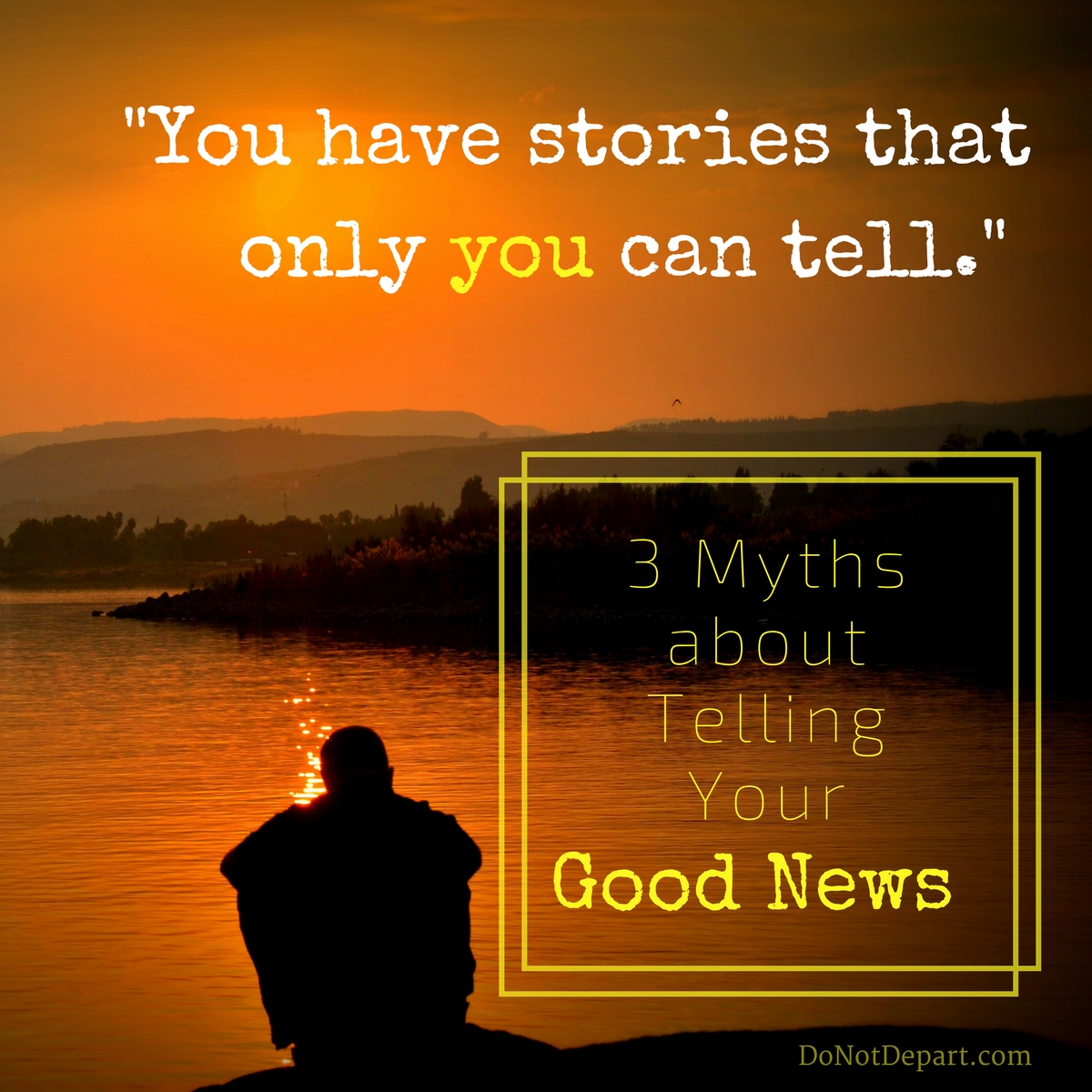 Same Story, Different Verse
Let's say a publisher wants a book about your mother. He asks for three versions.
Version 1
Author: You, her daughter
Audience: Your children and grandchildren
Version 2
Author: Your dad
Audience: His business co-workers
Version 3
Author: Her friend
Audience: The orphans she teaches in Guatemala
While each version may contain similar facts, the highlights and stories would be very different. Your mother's life would be told from different perspectives and for different reasons.
In a similar way, God wants stories told about His Son.
Four writers gave narratives of Jesus's life through the gospels (literally, "good news"). We know them as the Gospels of Matthew, Mark, Luke, and John.
But now God wants to hear your words. We're going to look at the New Testament writer Luke to explore this.
Immediately we make our excuses. We each have our own reasons for not sharing the good news.
Could Luke also have had reasons not to tell the story? Perhaps. Yet he told anyway. We can, too. Here's how.
Debunking 3 Myths
• Myth 1 •
I don't know enough
Sometimes we think we should be able to recite all 66 books of the Bible, have a working knowledge of each Old Testament prophet, and trace Paul's missionary journeys before we can share why we believe in Jesus.
Not so.
Luke never even met Jesus in person, yet he wrote an entire gospel about Jesus and the Acts of the Apostles. Luke heard the stories from others. He traveled with the apostle Paul (who himself only met Jesus in a vision) on Paul's missionary journeys. And likely talked with Mark (who wrote the Gospel of Mark) along the way.
Still, Luke's gospel ended up being the longest of the four, and combined with the book of Acts, his writings account for over one-fourth of the New Testament.
• Truth 1 •
You do know enough
We'll never know the complete story while we're here. But if we've encountered Jesus at all, we can tell others about Him. Continue learning and growing, yes. But we don't need a PhD in theology to share good news.
Tell what you do know.
• Myth 2 •
I'm not good enough
Do you still sin? We all do. We need Jesus every day. Our goodness is like filthy rags compared to His righteousness.
But Christ's goodness is what counts. Not ours.
Luke could have said "not good enough" about himself as well. He was not even a Jew. Likely a Greek physician (Colossians 4:14), Luke was the only non-Jewish writer of the New Testament. He could have taken a pass on writing a history of the Jewish King Jesus. He had been educated in Greek scientific culture.
But Luke wrote about Jesus anyway, and talked little about himself.
• Truth 2 •
Tell of Christ's goodness
What are your favorite things about Jesus? Those are things people need to hear anyway, not facts about our presumed holiness because we "grew up in the church."
Luke wrote about Jesus: about His compassion for the poor, healing of the sick, freedom for the oppressed. We can tell specifics of how Christ has been good in our lives as well.
• Myth 3 •
I have no one to tell
You're not a preacher with a podium? You don't have a podcast fan base? You haven't published a book?
Neither had Luke.
Luke dedicated both the gospel of Luke and the book of Acts to one person: Theophilus. Scholars assume Theophilus was a real person (the Greek name means "lover of God"). See Luke 1:3, Acts 1.1 But Luke's broader audience ended up being the larger Gentile world—Jesus came for all mankind.
• Truth 3 •
Talk to who you already know
If God wants you to have a big audience, He'll provide it. But until then, we share our joy in Jesus with those we talk to normally. Our coworkers, our family members, our circle of friends. Ordinary people. People like us. People we love.
They are the ones who most hear our hearts and see our lives. Why not tell them as well about the most powerful Friend we also talk to?
Original Stories
Luke could have given many excuses for not sharing about Jesus. But thankfully he didn't use them.
Without Luke, we wouldn't have the parables of the Good Samaritan, the Lost Sheep, and the Prodigal Son (along with 18 other parables found only in his gospel). We wouldn't know the story of the ten lepers or the stories about the beginning of the church in the book of Acts.
Just as you know stories about your mother that no one else knows, so you have stories about Jesus that only you know.
For example, your original stories include:
How you came to know Jesus
How He put your family together
How He brings you healing from a bad experience
How He is guiding you now in a difficult relationship
As we share the good news from our perspective, God is glorified. Our faith is strengthened. And others are blessed.
Good news is always relevant. Both the old stories and our new ones. Jesus is personal.
Tell your side of His story.
Learn more about Luke: "5 Things to Know about Luke from the Bible" from Crosswalk.com
What prevents you from sharing your good news? What helps you? Do you have a favorite New Testament gospel? Please share in the comments.
Extra Reading: