Doesn't it seem like the standard answer to the question "How are you?" has changed in our culture? It used to be that the usual response to that question was, "I'm fine," or "I'm doing well!" But now we all say "I'm busy!"
Busy-ness has become the norm. And busy people are distracted people. What better way to keep you from focusing on God and His Word than a long to-do list?
The fact is, our pace of life is a choice. And while there may be some things you cannot control in your day-to-day, you can choose to find a way to invite God's holy stillness into your heart and mind daily.
"Be still, and know that I am God.

I will be exalted among the nations,

I will be exalted in the earth!"

– Psalm 46:10
How can you obey God's directive in Psalm 46:10 to be still when the world makes so many demands on you? We'd like to help you start.
Set aside some time to dig into Psalm 46:10 using our free printable bible study. Allow the Lord to grow you in internal rest and stillness, so that you can live in peace no matter how busy your life might be.
You keep him in perfect peace whose mind is stayed on you,
because he trusts in you.

Isaiah 26:3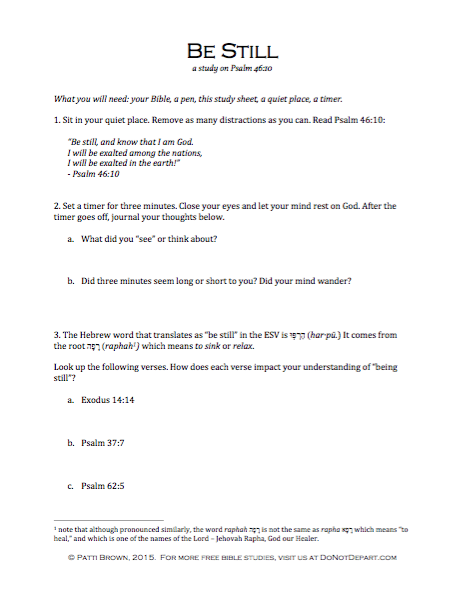 download "Be Still" bible study