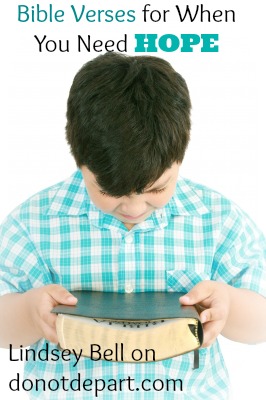 Too often, we hope for something.
We hope God will keep our families safe and healthy, heal a disease that threatens to take the life of someone we love, or prevent a tragedy from striking close to home.
None of these things, of course, are wrong to hope for.
But what happens when what we hope for doesn't come to pass? When our child gets sick, when the disease takes a life, or when a tragedy hits your home?
In recent years, as my husband and I have dealt with secondary infertility and numerous miscarriages, the Lord has been teaching me the difference between hoping for something and hoping in Someone. 
If you place your hope in something happening, you will often be disappointed. This life is hard, and God doesn't always prevent bad things from happening to his children.
BUT, if you place your hope in Someone, you will never be disappointed. Because, as Romans 8:38-39 tells us, nothing can separate us from the love of Christ. Absolutely nothing!
Here are some of my favorite Bible verses on hope. (You can download a free printable of these verses by clicking on this: Bible Verses for When You Need Hope-Printable-Do Not Depart)
Bible Verses for When You Need Hope (from the ESV version)
Psalm 71:5 – "For you, O Lord, are my hope."
Psalm 146:5 – "Blessed is he whose help is the God of Jacob,
 whose hope is in the Lord his God."
Isaiah 40:31 – "But they who wait for the Lord shall renew their strength;
 they shall mount up with wings like eagles; 
they shall run and not be weary;
 they shall walk and not faint."
Isaiah 41:10 – "Fear not, for I am with you;
 be not dismayed, for I am your God;
 I will strengthen you, I will help you,
 I will uphold you with my righteous right hand."
Jeremiah 29:11 – "For I know the plans I have for you, declares the Lord, plans for welfare and not for evil, to give you a future and a hope."
Micah 7:8 – "When I fall, I shall rise;
 when I sit in darkness,
 the Lord will be a light to me."
John 14:1 – "Let not your hearts be troubled. Believe in God; believe also in me."
2 Corinthians 4:16-18 – "So we do not lose heart. Though our outer self is wasting away, our inner self is being renewed day by day. For this light momentary affliction is preparing for us an eternal weight of glory beyond all comparison, as we look not to the things that are seen but to the things that are unseen."
Romans 5:2-4 – "We rejoice in hope of the glory of God. Not only that, but we rejoice in our sufferings, knowing that suffering produces endurance, and endurance produces character, and character produces hope."
Romans 8:24-25 – "Hope that is seen is not hope. For who hopes for what he sees? But if we hope for what we do not see, we wait for it with patience."
Romans 15:4 – "For whatever was written in former days was written for our instruction, that through endurance and through the encouragement of the Scriptures we might have hope."
What Bible verses on hope are your favorites? Please share in the comments. 
Click on this link for the printable: Bible Verses for When You Need Hope-Printable-Do Not Depart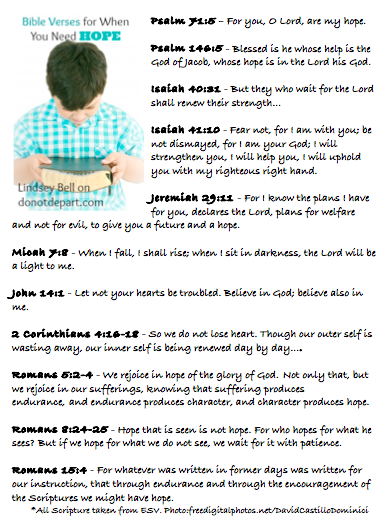 *Photo courtesy: freedigitalphotos.net/David Castillo Dominici