This month at DoNotDepart we've looked closely at traditional Christmas carols to see what they say about Jesus. We even shared some YouTube links so you can watch and hear some of our favorite versions of these carols. We hope our series brought you joy as you slowly took in what they lyrics really had to say.
We hope you cherished Christ right along with us.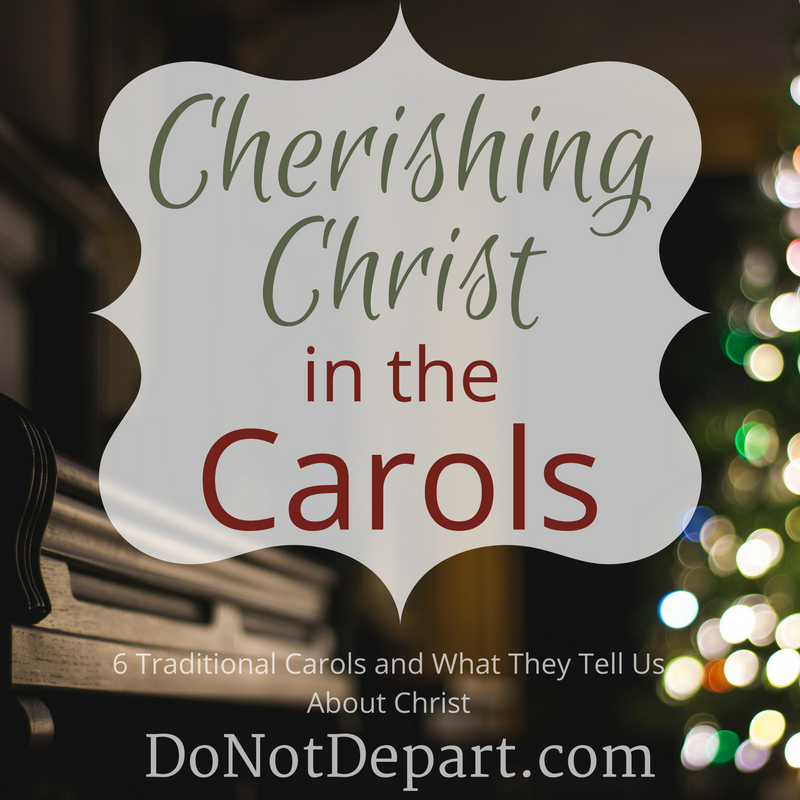 If you missed a post or would like to share the series, here's the link to each post in our series:
I looked at "O Come, O Come, Emmanuel" and the hope and promise Christ offers us. Isn't it a blessing to walk in the promises He's fulfilled?
"He cheers our spirits and puts the shadow of death to flight with His marvelous light, and leads us to Him on a safe, though narrow, path." – Ali
Kelli shared her heart and insight into four encouraging aspects of who Christ is and concentrated on the lyrics to "What Child is This?"
"Who is this child? He is our peace. Our joy. Our hope. He is our everything." – Kelli
Lisa urges us to share what God has done. Like the shepherds, we too have seen good news and we need to share it! Discover three ways in which we, too, can "Go Tell It on the Mountain."
 "Sharing Jesus is sharing Love. That is good news. Go tell it yourself. On the mountain, over the hills, and everywhere." – Lisa
Lindsey reminds us that our weary world rejoices in great hope because of Christ's birth. She looks at  "O Holy Night" and tells us,
"Though Christmas can be difficult, there is still hope. There's hope because of that one night long ago…that holy night when Christ was born." – Lindsey
Caroline tells us how the angels shared the "glorious song of old" mentioned in "It Came Upon a Midnight Clear." She shared with us three ways that we, too, can welcome Christmas –
"even when the world hurts and is too busy to see it." – Caroline
Patti wrote about the Magi and the famous carol "We Three Kings" and teaches us about Epiphany and who these Kings were. Though the carol may not be the most Biblically accurate,  it celebrates the seeking and discovery of the Savior of the world!
"Oh that all would be as wise as those Magi so long ago, who when they saw Jesus, fell down and worshipped!" – Patti
Thank you for joining us this month! We pray that you have a happy and blessed New Year! We'll see you again in 2017.
Ali