(Disclosure: Affiliate links are included in this post. Please see the end of the post for details. Thanks for supporting this site!)
You've been walking and exercising regularly for days, weeks, or even months now. You're feeling more fit and loving the benefits of improved focus, greater endurance, and higher energy levels. Maybe you've also maintained a solid bible study routine while getting your fitness routine in gear. (Maybe together with like-minded folks in a community like HelloMornings?)
Now, it's time for a hard-earned break with your family (or spouse or friends) – a vacation!
We humans are creatures of habit. Once our go-to schedule is thrown off by a big change (like a move or a new job) or a temporary shift (a vacation), we sometimes lose focus on previous goals.
How can we keep both our fitness routines and bible study habits intact over vacations?
Staying On Track is Easier Than Regaining Lost Ground
A preface: if you've gotten off schedule in fitness OR in "quiet time," do not ever feel like you can't get back on track. Grace upon grace. We all lose focus sometimes or have extenuating circumstances that prevent us from accomplishing what we'd like and sometimes what we even need. Returning to your healthy habits is better than never trying!
Now that I've issued that disclaimer, if you can stay on track, it's much easier than having to regain lost ground after a while.
Some of the same tips we use for maintaining fitness routines can help us retain bible study routines, too. (If you haven't read some of my fitness articles elsewhere, you might not know part of my professional background is in family fitness and wellness! My tips are here to help, but always consult a doctor for individualized medical information.)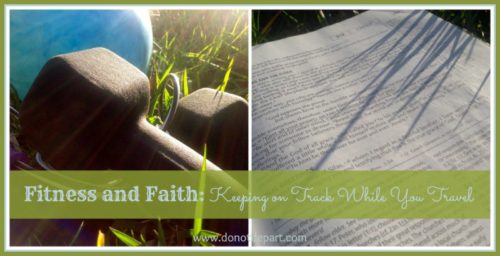 7 Tips for Maintaining Your Fitness and Devotion Time While Traveling
Related Resources:
How do you keep up your fitness routine and/or your study routine while traveling? What strategies do you use with one area that might help in the other? Please share your tips in the comments so we all can learn!
(Disclosure: Some affiliate links are present to Amazon products above. If you click on those links and then purchase that item, we receive a small commission at no extra cost to you. Regardless, we only suggest products we find useful. Thank you for supporting this ministry!)