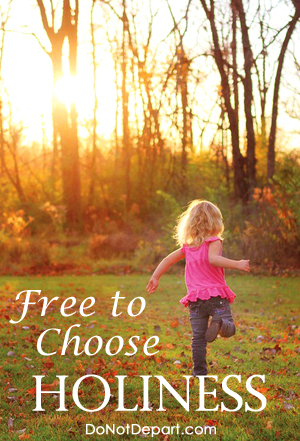 Freedom. It is a word we Americans hear often as we anticipate our annual celebration of Independence Day. The word freedom has many political and philosophical implications, so the meaning of freedom varies from person to person.
For Christians, the definition of freedom is bound up in the person of Jesus Christ, the One Who sets us free from our captivity to sin and death.
For freedom Christ has set us free; stand firm therefore, and do not submit again to a yoke of slavery. Galatians 5:1
The Fruit of Freedom in Christ
Through Jesus Christ, you and I have been released from the death grip that sin has on our lives. We are no longer slaves to sin, walking a path that leads to destruction, but by His grace we are walking in freedom in Him. When Jesus sets us free from that bondage, the fruit is sanctification – the process of growing in holiness.
But now that you have been set free from sin and have become slaves of God, the fruit you get leads to sanctification and its end, eternal life. Romans 6:22
Sanctification is an ongoing process. I'm sure you can agree that when you were saved you did not immediately stop sinning. No one is perfect this side of heaven, but we are no longer trapped by sin, no longer destined by our very nature to always go against God.
Because of Jesus' gift, we will spend eternity with Him, but we still have to exercise our freedom to choose not to sin today.
Choosing Holiness
In my preschool Sunday School class I teach a game I call "The Repentance Game." Repentance is a big word for a little person, so I use this game to demonstrate what it means.
First I turn off the lights in a room with a window, so that one part of the room is dark, but light streams through the window. I tell the children, "Whatever you do, you are always making a choice to walk toward Jesus or away from Him. When you are walking toward the darkness and doing wrong things, He wants you to repent, to turn around, and run toward Him… to run to the light." I have the children face the dark side of the room, and when I say "Go", they slowly walk forward. Then I shout REPENT! and they turn and run run run toward the light.
You and I are all grown up, but we still have to choose… walk toward the darkness, or run toward the light?
Because God has set His people apart for Himself, we do not have to make decisions that go the way of the world, the way of the culture. As you daily make choices to live a life of holiness, a life according to His beautiful plan, He further refines you and shapes you into the person He wants you to be be – someone who does not live in fear, someone who chooses to love.
When you walk fully in the freedom you have in Christ to live a holy life, you will not only experience joy, but also will not have to deal with the consequences of sinful decisions. You can live free today from the pain of sin and its ongoing effects.
For the wages of sin is death, but the free gift of God is eternal life in Christ Jesus our Lord. Romans 6:23
You can't earn holiness. You can't earn eternal life. Only through Jesus Christ are either possible for you and for me.
But you can choose to live set apart for God's service. Every single day you have countless opportunities to decide to walk with God or away from Him in the details of your life.
You and I have been given the gift of true freedom in Christ, the fruit of which is holiness and, ultimately, eternal life!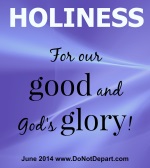 Tweetables:
Ever heard of The Repentance Game? Find out more from @becomingjoyful and @donotdepart #kids #SundaySchool #holiness http://wp.me/p1Su7F-2Zs click to tweet
Every single day you choose to walk with God or away from Him in the details of your life. http://wp.me/p1S #holiness @donotdepart click to tweet
For Christians, the definition of freedom is bound up in the person of Jesus Christ. http://wp.me/p1Su7F-2Zs @donotdepart #holiness click to tweet