Some events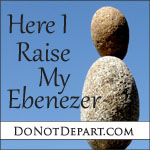 are festivals of God's provisions, providing enough Ebenezer stones to build a monument. For women who experience the carrying and bearing a life, birth is often such an event. From the monument of our first child's coming that looms large in our family story, I want to draw out one small stone. It's in the choosing, studying, and holding of a single stone that we remember the divine nature of the details.
No one will ever accuse me of being "medically minded;" I read little of What to Expect When You're Expecting. After all, women have done this for millenia; what could be new? When early morning pangs were followed by a reddish gush, we nervously called the doctor, I took a quick shower, and we headed into zero degree darkness to the hospital. Empty, silent roads calmed our excitement and nagging questions. Waddling past the curb, a nurse met us at the doors and invited me to plop into a wheelchair.
Automatic doors ushered us in to the room where only one couple waited. Friends from church! What emergency brought them there in the middle of the night? Without insurance, their little one had an ear infection, forcing them to the ER. They were just leaving as we entered. Since she was a nurse and knew my due date, Cheryl peppered us with quick questions. Our naive, inexperienced answers landed heavily on her medical ears; she hid her fears as she squeezed my hand and told me they would be praying and waiting for news. We had no idea that we were in need of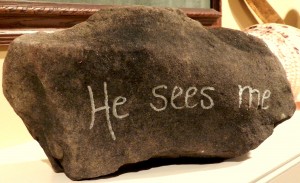 extraordinary prayers.
As they elevator doors closed, the couple hurried to a phone to call our sleeping pastor. Everything moved so fast … the wheelchair, the doctor, the cold iodine over my stomach, and Jeff's face fading from my sight amidst shouts and orders. There had been no time to call anyone or to let our family members hours away know that the first grandchild was struggling for life.
God put the right person .. at the right place … at the right time … to know our need before we even knew.
El Roi, the God who sees, was not caught by surprise. He had not missed the events. We were caught unprepared by the urgency, our loneliness, and our ignorance. But He was already ahead of us, fulfilling His promise through His people.
"When you pass through the waters, I will be with you; and through the rivers, they shall not overwhelm you; when you walk through fire you shall not be burned, and the flame shall not consume you" (Isaiah 43:2).
He did not leave us or forsake us in our darkest valley; He sent His people on ahead in the guise of a child's ear infection, so that an informed woman of faith was at the doors to greet us and know our need before we knew it. God provided for an army of prayer warriors to be engaged when we had no knowledge or time to enlist one for ourselves.
It's a single stone in a monument of God's great work in the life of our daughter, and it deserves to be lifted out, studied, and held with gratitude. I could show the other stones in this monument we remember when we say "JoHanna," but I don't want any others to overshadow this single stone of remembering God's tender provision.
God put the right person at the right place at the right time to know our need before we even knew it.
Dear Lord,
Thank you for seeing what's before us and for providing what we needed, even when we didn't know. I'm so grateful for how YOU enlisted the prayers of Your people on our behalf. We are truly never alone, never out of Your sight, never passing through the waters without You there. Here I raise this Ebenezer to remember Your tender lovingkindness.