Why do you study the Bible?
If you're like me, you have many reasons. To know God more. To be transformed into his image. To learn to love others better. To build a stronger faith in Jesus. To reflect his glory. To solidify truth in your heart.
But if you read the Bible and immediately forget what you learn, how effective is that (James 1:23-24)?
God often commanded the Israelites to write things down, and their faithfulness to the written Word means we have accurate scriptures today.
We all know that one effective way to retain what you read is to write it down. In a place you can find again.
Creating a personal Bible notebook works for me. While I still keep separate notebooks for specific purposes (like my Philippians memory book), I use one 3-ring binder to hold the bulk of my daily studies.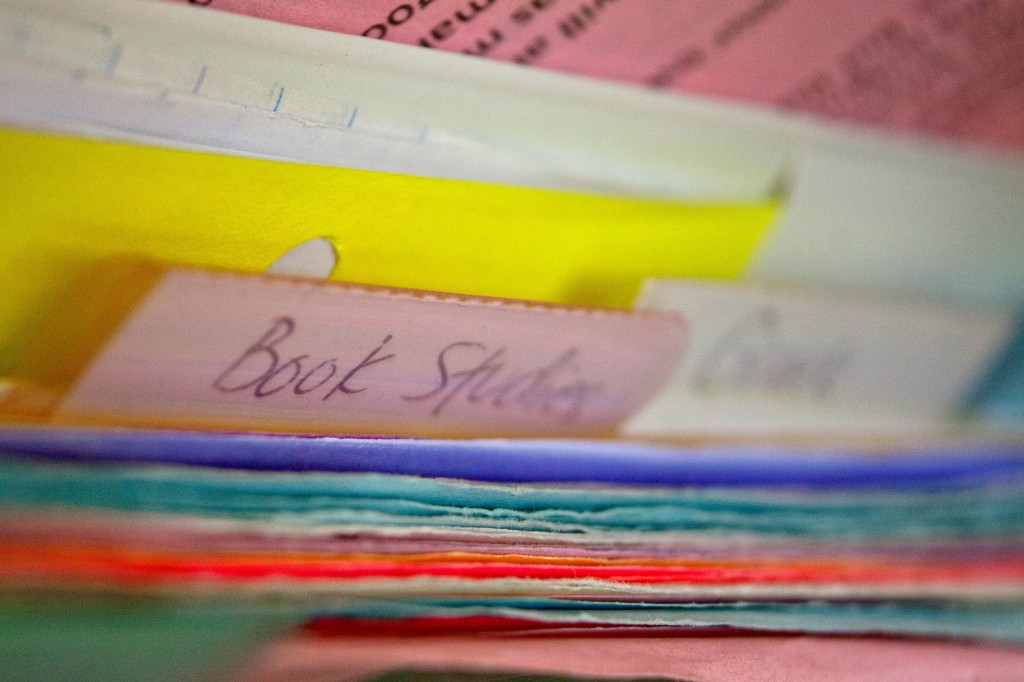 For example, eight years ago I began copying by hand and journaling one verse per day from my daily Bible reading. I wrote what the truth revealed about God and how it applied to me at the time.
Now that I'm going through the Bible for the fourth time with this method, I am benefiting from having all my previous notes sorted by book/chapter so I can easily flip through my notebook and be reminded of what I learned from the past three readings.
Having easy access to lessons God has already taught us through his Word in past situations builds our confidence in his faithfulness in our current and future circumstances.
Things you need:
3-ring binder
Notebook paper
Insertable tab dividers
3-hole punch
Sheet protectors (optional)
Decorate your binder to make it personal, then pack in plenty of paper and several dividers.
Next, decide on the categories you want and make tabs for each. I use these.
Tabs:
Bible Notes
Memory Verses
Greek
Prayers
Book Studies
The Bible Notes section includes my daily verse journal that I write by hand on loose-leaf notebook paper. I also keep an extra copy of my Daily Bible Reading plan here.
Under the Memory Verse section, I keep a printout of all the verses and chapters that I've (tried to) learn. Then each day I review one sheet before I begin working on my current verses. This assures all the verses get reviewed periodically.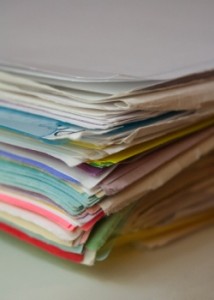 I started the Greek tab when I took a Wednesday night class on Greek from a retired university professor at church. I write down interesting words and definitions that bring new light to scripture as well as words that I want to study more later. I keep a copy of the Greek alphabet here and a list of key words that I don't want to forget.
The Prayer section holds both prayer lists as well as prayers I've written for special occasions, such as the beginning of a school year. Having a record of requests, answers, and praises will motivate you to continue seeking the Lord.
The Book Studies section includes notes from books I've studied on my own as well as with friends. This is also a great place to capture book suggestions for future studies.
You could also include sections for sermon notes, blog posts, writing ideas, quotes, devotionals, photos, drawings, song lyrics, Bible maps, etc.
Use pockets in the front and back of your binder or use sheet protectors to store church bulletins, loose notes, or small clippings you don't want to lose.
Keeping everything in one place, at your fingertips, can make your study times more fruitful, less scattered, and more faith-building.
How do you keep track of what you're learning? What works for you? For your kids? Please share!