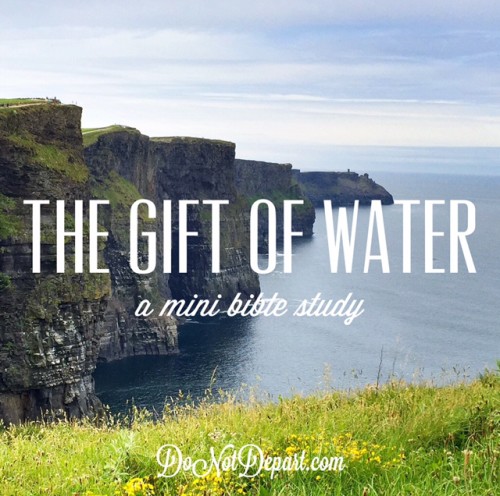 It is summer and many of us are on the move – on vacation and in search of rest and a break from our daily lives.
Have you ever noticed that vacations are often planned near water? There is something about a body of water that draws us. Historically, people lived near water because survival depended on it. With modern water systems, we now tend more often to think of lakes, rivers and oceans as peaceful places to enjoy ourselves.
We couldn't live without water. Humans can live for a surprisingly long time without food, but can't survive much more than three or fours days without water.
While our earthly life depends on physical water, our eternal life depends on our Lord and Savior Jesus Christ, who offers us living water.
On the last day of the feast, the great day, Jesus stood up and cried out, "If anyone thirsts, let him come to me and drink. Whoever believes in me, as the Scripture has said, 'Out of his heart will flow rivers of living water.'" (‭John‬ ‭7‬:‭37-38‬ ESV)

Jesus said to her, "Everyone who drinks of this water will be thirsty again, but whoever drinks of the water that I will give him will never be thirsty again. The water that I will give him will become in him a spring of water welling up to eternal life." (‭John‬ ‭4‬:‭13-14‬ ESV)
In water we find many poignant metaphors:
Water is powerful. Recent flooding in the United States is only the latest reminder of the great power of water. Water can remind us of the incomparable power of God.
Water gives life. In fact we define what is alive by its need for water. Jesus gives us eternal life!
Water cleanses. Jesus' sacrifice on the cross washed us clean from our sins.
If you find yourself near water on your vacation this summer, take some time to meditate on the gift of earthly water, and the precious spiritual gift of living water.
Bible study suggestions:
1) Read John 4:1-14. Ponder "living water." What has been brought to life in you because of Jesus?
2) Read Ezekiel 36:25. What areas of your heart need to be opened to the cleansing power of the living water of Jesus Christ?
3) Read Isaiah 43:2. Consider the power of water and how God is even more powerful. His is the power that will see you through your hardest trials.