Peace.
It's something I've been thinking a lot about lately. Though God has given me deep seated peace the world can't take away, I've also had my moments of struggle the past few weeks.
I suffered a serious knee injury last month and it'll take a long time and a lot of work until I'm "normal" again. When my mind starts to worry about the future, I take my thoughts captive, stay my mind on God, and focus on the blessed flood of peace He gives.

Dictionary.com gives several definitions for peace. The first several are in regards to nations getting along with each other, and the last few deal with tranquility and serenity.
It's those last few definitions that come close to what the Hebrew word, Shalom, expresses. But, as we often find with Biblical languages, the original words convey so much more! God chose the rich language of Ancient Hebrew to say much in few words.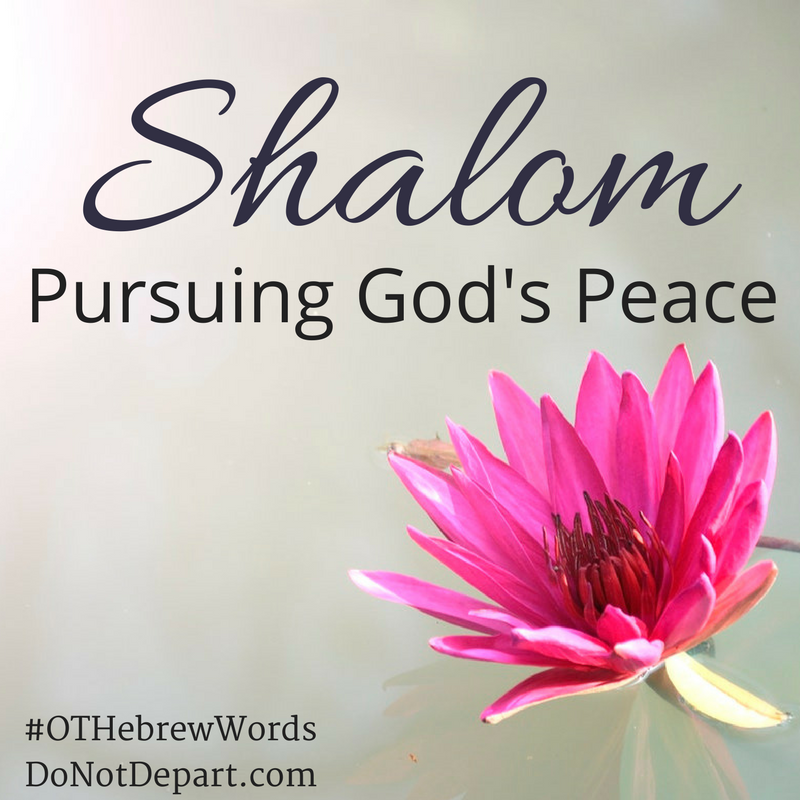 Shalom
According to the Brown-Driver-Brigg's Lexicon , Shalom (Strong's #07965), encompasses much more than just what we often translate "peace." Besides simple peace, the word also expresses the concepts of:
completeness

soundness

welfare

prosperity

tranquility

quiet

contentment

and friendship – both with man

and

with God.
That's quite a list, isn't it? Did you notice that the physical, mental, and spiritual realms are covered– all by this one little word?

With God's shalom we can have internal completeness even when our lives feel incomplete or broken. We are offered welfare when we feel the stinging hurts of life. And while our struggles are real, we are still offered beautiful tranquility and contentment of spirit, by our truest Friend.

Read these passages with those concepts in mind:
"You keep him in perfect peace whose mind is stayed on you, because he trusts in you." Isaiah 26:3



"The LORD bless you and keep you; the LORD make his face to shine upon you and be gracious to you; the LORD lift up his countenance upon you and give you peace." Numbers 6:24-26

"Let me hear what God the LORD will speak, for he will speak peace to his people, to his saints…" Psalm 85:8 a

"Great peace have those who love your law; nothing can make them stumble." Psalm 119:165

"For to us a child is born, to us a son is given; and the government shall be upon his shoulder, and his name shall be called Wonderful Counselor, Mighty God, Everlasting Father, Prince of Peace." Isaiah 9:6
(To read additional passages containing the word shalom, click here.) 


But Where Do We Tend To Go For Peace?
Unfortunately, we don't always seek God's peace first. Sometimes the whirlwind storms of life swirl around us, distract us like Peter among the waves, and we stop to cry out to God. But these whirlwind waves serve as a blessing, don't they? We can learn to "kiss the waves" because they throw us against the Rock of Ages. 
Those times are hard, but blessed. And if we learn to recognize the things we tend to turn to before God, then we can learn not to seek those things in His place.
Where do we sometimes go when we feel discontent? Here are a few "places" we go and thoughts we might think:
Ourselves – I can plan or control my way into peace.
Others – I'll have someone help me with this. Maybe peaceful relationships without will make me feel peaceful within. (And while this is good if it solves a problem in that relationship, it will never serve as a substitute for experiencing God's peace in all areas of our lives.)
Understanding and Knowledge – If I know more, I can make things better. (Even Solomon was wise, but knowledge in and of itself didn't give him peace. Though he had a peaceful reign, he faced internal struggles that lead him into idolatry. See 1 Kings 11:4.)
Distraction – I'm too busy and need to be busier. I don't have time to seek peace. I'll seek things I enjoy or keep me busy instead.
Avoidance – I just can't deal with this now.
Worry  – I can't stop thinking about the things that plague me. It would be irresponsible to not worry.
But God wants better for us. Though we seek peace elsewhere, true peace is only found in God. He wants to give us the peace that Jesus offers– the peace that passes all understanding. (Philippians 4:7) And even though we're diving into the Old Testament this month, we know that the peace that Jesus gives (John 14:27) was promised to us under the old covenant. 


"But he was pierced for our transgressions; he was crushed for our iniquities; upon him was the chastisement that brought us peace, and with his wounds we are healed." Isaiah 53:5 (emphasis mine)
How has God given you peace lately? We'd love to hear your story in the comments!

Ali