Want to swap pictures?
We have a great collection of faith-filled pictures, backgrounds, and scriptures here at Do Not Depart that we are now ready to share on Instagram!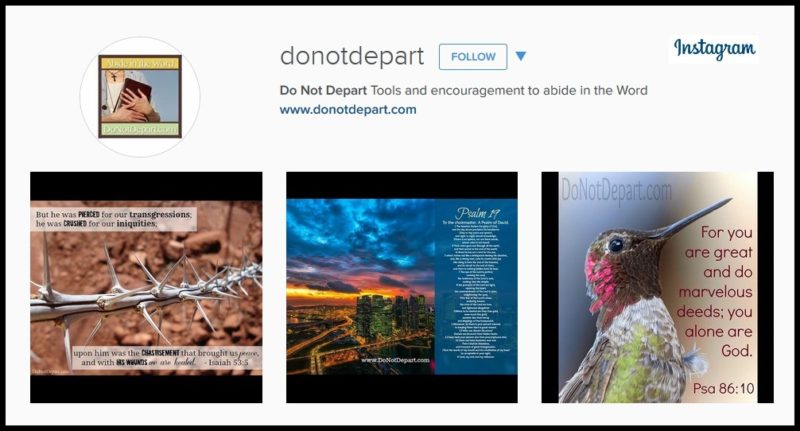 And we want to see your pictures!
If you're already on Instagram, follow "DoNotDepart" here.
If you're not on Instagram, but want to be, here's how to get started. (For more details, go to the Instagram Help Center.)
Download the free app on your iOS smartphone, your Android, or Windows Phone. (You can view Instagram pictures on a computer, but you can't set up an account there or post from there.)
Create an account with the Username you want to use.
Find other Instagrammers to follow (like DoNotDepart!). Choose from your Facebook friends, your phone's contact list, or do a search for "Find People to Follow."
Now share a photo! Choose a picture from your phone's photo album or take a new one through the Instagram app. Or if you're not ready to share, just enjoy looking at others' photos.
To direct us to your pictures, use this hashtag for pictures about resting in Christ (our August series):
#ReviveAndRenew
For your pictures with Bible verses, use this hashtag:
#HideHisWord
For pictures of our newest memory verse challenge:
#Isaiah12

Our NEW Bible Memory Challenge this fall (details here!) will include a weekly "Instagram Friday" feature. We hope you'll post photos relating to each memory verse. We look forward to regramming your pictures (unless your account is private) to share the Word.
As with any social media, Instagram can be used for good or for bad. But like our goal in all we do, let's use it for the glory of God!
Do Not Depart is also on Twitter, Pinterest, Facebook (+ Hide His Word), and now Instagram.