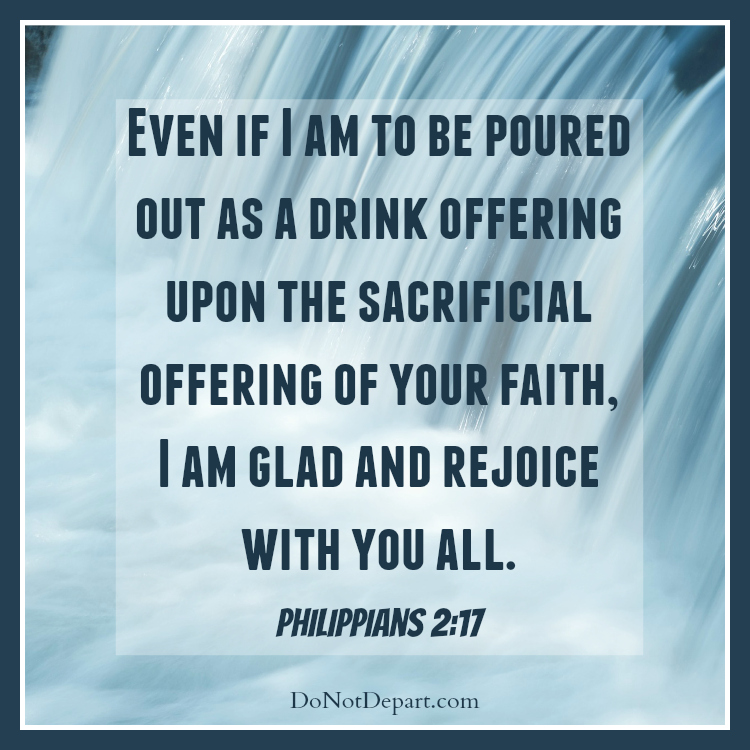 We have spent this month reading and reflecting on Philippians 2… on how we who walk with Christ are called to shine like stars in our often dark world.
How do we shine? By…
Our final verses in this month's study are Philippians 2:17-18.
Even if I am to be poured out as a drink offering upon the sacrificial offering of your faith, I am glad and rejoice with you all. Likewise you also should be glad and rejoice with me.
What more can we glean about shining from these two verses?
we choose to give
we rejoice!
Give
Sometimes God calls us to give sacrificially. To be poured out.
In ancient Israel, many types of offerings were made by the priests on the altar of the Lord. The Old Testament goes into great detail about the nature of these offerings – among them, which types of offerings were to be made for specific circumstances and even the level of offering based upon one's wealth.
The drink offering was one of the types of offerings. Usually wine, a drink offering was often poured over other offerings on the altar. All offerings required a sacrifice of some kind on the part of the giver.
In Paul's letter to the Philippians, he refers to himself as the offering. And we can apply this to ourselves as well.
As we selflessly seek to walk with God – to love and serve others, to shine like stars – we are called to lay our lives down and make them an offering. We become as a gift on His altar.
We know that Jesus' death on the cross was the final offering needed to reconcile us to God. The offerings we make as His children we do out of love, not obligation. Your gift of love as you pour yourself out in His service is a sweet aroma to your heavenly Father!
Rejoice – the Right Response to Serving
Let us not be deceived – you can give and give but not shine.
When you allow God to pour you out in service to others, you can take that gift and twist it. It is frighteningly easy to do.
You can feel used, you can feel sorry for yourself, you can act like a martyr. When you do this, you take the shiny gift of service and muddy it with selfishness.
Paul is clear – serve and rejoice. Give all that you have and all that you are, be poured out to the last drop, and rejoice in what God is doing!
I will be honest: there have been times when I have been poured out and felt so dry that I have thrown myself a pity party. When I look at those times I can see two very clear reasons:
Remember, there is a battle for our minds! And as Ali reminded us, "as both His body and His bride we're called to be united with Christ in the same mind."
Rejoice Together
Philippians has been called the "joy book" of the bible for good reason. Paul wove the theme of joy deeply throughout his letter to his brothers and sister in Philippi.
Paul encouraged his beloved brethren to rejoice with him, and what a good word this is for us today too!
We each face many earthly struggles and sorrows – there is just no escaping them. In fact Jesus Himself told us to expect them: "In the world you will have tribulation. But take heart; I have overcome the world." John 16:33b Even in the midst of pain, we who follow Christ can rejoice!
We rejoice together because of Whose we are.
We rejoice together because we believe that God is sovereign, that He is working all things together for good, that we will see Him one day face to face.
Our heavenly Father has made us brothers and sisters, given us to one another to love and enjoy. We bear each other's burdens and share in each other's joys.
Our joy in Christ and in one another makes us shine even more!
For further study:
1) Other references to drink offerings in Old Testament include Genesis 35:14, Ezra 7:17 and Numbers 28:7. What happened to the drink offerings?
2) When does Philippians 4:4 say we should rejoice?
3) Consider how your mind plays a role in your ability to rejoice. Read 2 Corinthians 10:5. How can you actively engage in keep your mind on the right track? What is the result of thinking about God and His ways, according to Isaiah 26:3?
4) Reflect: how do other believers help you rejoice? Think of one person in your life who rejoices with you regularly and take the time to call them or jot a note to thank them for blessing you in this way.