Update:
Registration is now closed.
But you can still print the materials and use them anytime!
Print the schedule here.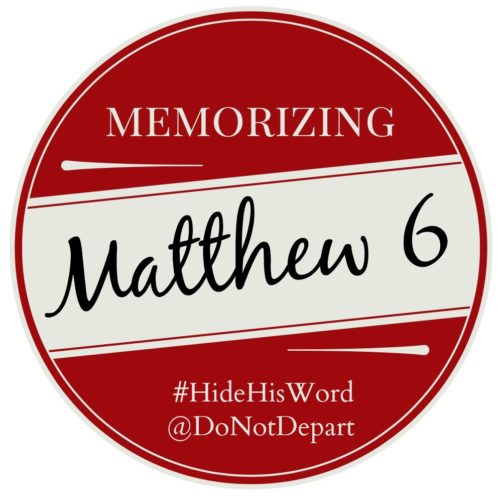 It's here! Our newest chapter to memorize together is Matthew 6. Words straight from the mouth of Jesus.
Have you memorized with us before? We'd love to have you join again and be around to encourage newbies.
Or will this be your first time? What a rich chapter to begin with! Next Monday, January 11, we'll post resources to get you off to a good start. Then on January 18, we'll start memorizing Matthew 6:1-2.
If you look at the chapter now, you may discover you're already familiar with many of the verses. The truths in these red letters are life-changing on:
Giving
Praying
Forgiving
Fasting
Contentment
Releasing anxiety
Once you register below, we'll send you an email with more details. Then each Monday morning throughout the challenge, beginning January 18, you'll receive a short weekly email, reminding you which verses we're learning that week. We want to walk alongside each other for encouragement to keep going.
But more importantly, we want to keep our hearts stirred together to be attentive to what Jesus is speaking into our lives in this season. His words are always relevant.
There's no reporting in, so even if you just want to receive the verses to read along with us, sign up below. But if you want more accountability, we'll be chatting weekly on our Facebook page as a community of believers memorizing together.
Start 2016 with a great habit of listening quietly to the Lord's timeless message to you. He won't let you regret it!
Connect with us in any or all of these places:
Download and print this Schedule for Memorizing Matthew 6.

We'd love for you to share this challenge on your own blog (button for Memorizing Matthew 6) and help us spread the word on social media. Thanks!