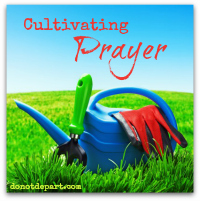 We have spent a whole month devoted to talking about prayer here at Do Not Depart. Imagine if you spent a whole month devoted to actually praying! Does it sound like a lot?
In fact a month of prayer is just a drop in the bucket for God's people, who are called to praying without ceasing! 1 Thessalonians 5:17
We wanted to help equip you for that glorious call, and while we just barely scratched the surface in discussing prayer, we pray the Lord has spoken to you in some small new way about prayer in your life and the lives of those you love.
Prayer is an essential spiritual discipline for a Christian. Do you have questions about prayer that weren't addressed? How can the Do Not Depart team serve you as you cultivate the discipline of prayer in your life? Leave us a comment!