I look back on 2011 and have many regrets. There are words I wish I could take back; choices I would like to change, but I can't. There are habits I hoped to establish; goals I had planned to achieve, but I didn't.
It would be a mistake to look at my failures and, through guilt-motivation, set out to try harder this new year.
Trying harder may work for a while but, come February, most of us will find ourselves "two steps back," discouraged and defeated.
By Grace Through Faith
Though I cannot change the past, I do have hope for change for the future. It is through the same great truths we experienced in our first moment of life with Christ.
It is by God's grace, through my faith, that I can experience life change. 
The focus in the Bible, over and over again, is not on our works, but on God's grace and our faith. Yes, our deeds are important, and as we grow in Christ, our actions should and will look differently a year from now; but the change we want to see in our lives—true life-change—comes only through a grace-filled work of the Holy Spirit in us, as we abide in Christ.
We see this beautiful picture of faith in the grace of God bringing forth righteousness in Abraham:
That is why [righteousness] depends on faith, in order that the promise may rest on grace and be guaranteed to all his offspring—not only to the adherent of the law but also to the one who shares the faith of Abraham, who is the father of us all…No unbelief made him waver concerning the promise of God, but he grew strong in his faith as he gave glory to God, fully convinced that God was able to do what he had promised. That is why his faith was "counted to him as righteousness." (Romans 4:16-22 ESV)
Living Fully Convinced
Friends, will you join me in a new pursuit? To not to let my plans for more quiet times, a better prayer life, or more self-control trump my pursuit of growing strong in my faith. To make my new-year's goals less oriented toward becoming a better person, and more toward knowing God in bigger ways.
To focus on becoming fully convinced that God is able, instead of trying to prove that I am the one who is able.
Let's enter into this new year with a new resolution. Not one of trying harder, but one of believing better.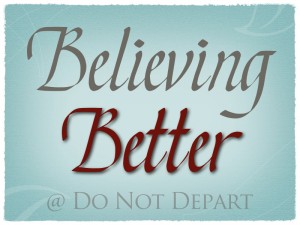 Here is a wrap-up of the Believing Better Series: