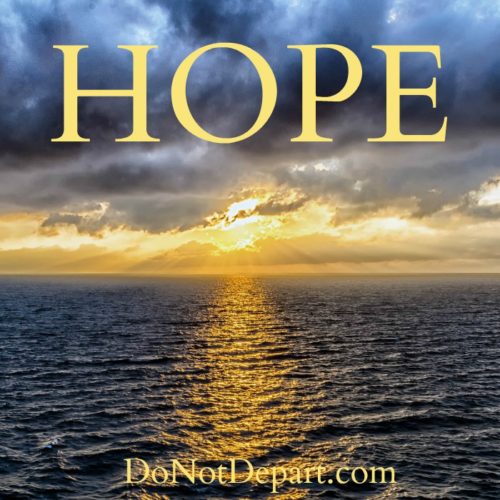 "Blessed be the God and Father of our Lord Jesus Christ! According to his great mercy, he has caused us to be born again to a living hope through the resurrection of Jesus Christ from the dead" – 1 Peter 1:3
In a world filled with worrisome sound bites and scary images, we have a desperate need for hope.
But what does it mean to have a living hope?
The Greek word zōsan (ζῶσαν) that is translated "living" in 1 Peter 1:3 means in this context "having vital power in itself and exerting the same upon the soul." (Thayer's Greek Lexicon)
The same term is used to describe the living Word in Hebrews 4:12 and 1 Peter 1:23. In Hebrews 10:20, the living "way" to God is through the person of Jesus Christ.
The hope that we have in and through Jesus Christ has power, and gives us strength. The more we fix our hope on Him, the more our hope grows!
This month the Do Not Depart team will be digging into God's Word in pursuit of a deeper understanding of hope. What does scripture say? Where do we find hope? How can we live hopeful lives?
Do you have questions about hope? Share in the comments!
Save