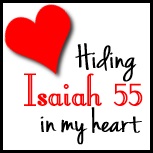 Sign up to memorize Isaiah 55 together! It'll be easy–one verse per week for thirteen weeks of beautiful promises from God's word.
Each Monday, beginning January 20, we'll highlight the verse of the week here at the blog, ending Easter week, April 20.
Fill out the registration form below to receive all the details as well as monthly memorization tips in your email inbox. If you'd like additional accountability, join our Hide His Word Facebook group, follow #HideHisWord on Twitter, and practice with our ScriptureTyper group.
RESOURCES
Print or download as many of these free resources as you'd like. (Resources are for ESV, but use the translation of your choice.)
Also check out Scripture Stickies for purchase. This is a set of removable sticky notes especially for our challenge. Use this code—DONOTDEPART—to get a 10% discount when checking out. Consider the Scripture of the Month Club while you're there, using the same code for a discount.
INVITE OTHERS
We'd be honored if you'd mention our memory challenge on your blog (download the button here). And tweet or Facebook this:
Want to memorize a Bible chapter? Sign up for Isaiah 55 @DoNotDepart http://wp.me/p1Su7F-2Kb #HideHisWord
Link up coming February 10 for your blog posts about memorizing scripture.
Questions? Comments? Let us know in the comments.
REGISTRATION NOW CLOSED – Join us for our next memory challenge coming soon