Mary sends up a flare on Facebook: "I just don't know how I am going to get through this day."
You see Angela hurrying out of church with tears streaming down her face.
Liz angrily pours out her frustration about something minor, and you realize that a deeper hurt is fueling her emotion.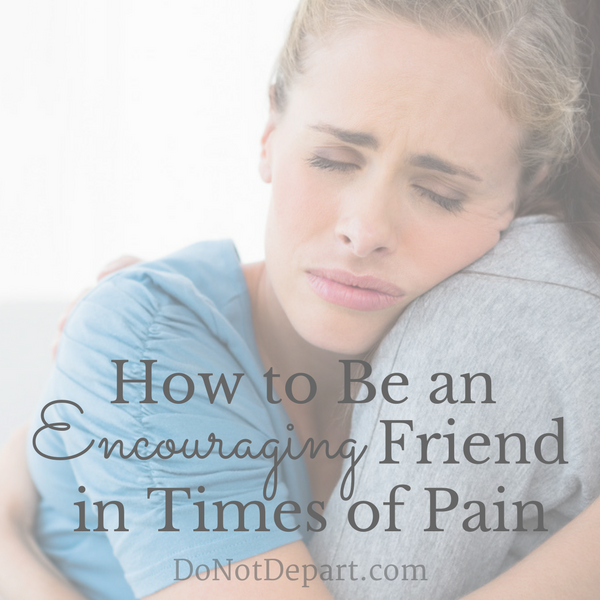 No matter how you realize she is hurting, when your friend is in pain she needs your loving encouragement. But sometimes it is hard to know what to say or do, isn't it? We want to help but we aren't sure how.
"A friend loves at all times, And a brother is born for adversity." – Proverbs 17:17
The encouragement of a loving friend can make all the difference in how we face the struggles that come in life. Here are suggestions for how to be the encourager your friend needs.
AN ENCOURAGING FRIEND DOES…
Make a point to connect – When you realize your friend is hurting, reach out in person or via technology (here are some ideas Ali shared earlier in our series on friendship). "Better is a neighbor who is near than a brother who is far away." (Proverbs 27:10)
Acknowledge her pain – Don't reach for solutions straight away. Honor the fact that she is hurting and be with her in her pain: "This is so hard." "I am so sorry." "It is understandable that you feel this way." "I can't imagine how difficult this is."
Speak words that build up – Choose life-giving words. If her pain comes from recognition of sin in her own life, don't neglect to encourage her about the ways she blesses you. "Therefore encourage one another and build one another up," (1 Thessalonians 5:11)
Ask questions – "How are you feeling today?" "What can I do to help?" "How can I pray for you?"… and really listen to the answers.
Find a way to bring beauty into her life – Email or text her a worship song that is meaningful, or a pretty image of a scripture applicable to her situation. Bring her flowers, or a small cheerful gift basket. Make a meal that she can enjoy in her own home, or have her over for dinner.
AN ENCOURAGING FRIEND DOES NOT…
Minimize her struggle – Now is not the time to talk about how great other things are in her life. If your friend's father dies, it would obviously be insensitive to say "Well at least you have another parent." Don't make this sort of mistake in another context. Her pain is what it is.
Preach a sermon – The last thing someone needs when she is suffering is to hear a long theological treatise. Yes, speak God's Truth, but be sensitive about timing, and be concise! "Gracious words are like a honeycomb, sweetness to the soul and health to the body." (Proverbs 16:24)
Make it about you – It's okay to share your personal experience in a limited fashion, but be mindful of keeping the focus on your friend.
Forget to follow up – Stay connected. Make a point to check in with your friend regularly.
God knows that we need each other, and that we need Him in our friendships. I love this passage from Ecclesiastes:
"Two are better than one, because they have a good reward for their toil. For if they fall, one will lift up his fellow. But woe to him who is alone when he falls and has not another to lift him up! Again, if two lie together, they keep warm, but how can one keep warm alone? And though a man might prevail against one who is alone, two will withstand him—a threefold cord is not quickly broken." – Ecclesiastes 4:9-12
You + your friend + God = a threefold cord! Be the encourager that your friend needs in her pain. You will be blessed as you bless!
"For I long to see you so that I may impart to you some spiritual gift to strengthen you, that is, that we may be mutually encouraged by each other's faith, both yours and mine." – Romans 1:12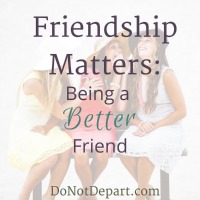 Save
Save
Save
Save
Save
Save