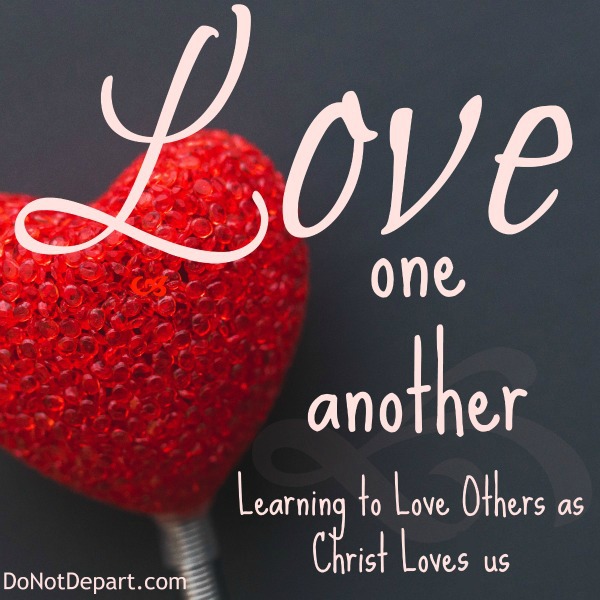 This month we've been looking closely at aspects of Christ's love. We've asked, "What does His love really look like? And how can I model that love in my own relationships?"
We've attempted to learn from Christ how true love really loves so that we can apply it practically in our own lives.
Our goal was to learn to be Christ-like women who love as He loved— in all of our roles. Christ loved us perfectly. We know that our love can't measure up to His (perfect!) love, but we are told to do it anyway.
"This is my commandment, that you love one another as I have loved you. (John 15:12)
God will strengthen our efforts to love as He loves, and will bless our obedience to His word. And the people He puts in our lives? They will be blessed by experiencing a sampling of the love of Christ, even though it be in an imperfect form.
This month we looked at these attributes of Christ's love:
Jesus loved us with a selfless love. I wrote about how we can demonstrate a selfless love like His to our families.
Jesus' love was also one that served others. In our Let the Children Come feature, Patti gave us ideas for teaching our children to serve, encourage, create, and rejoice in their love for one another.
God's love for us always seeks our best. It's always beneficial. Lisa showed us four ways to love someone with Alzheimer's or dementia the way that God loves us.
The love of Jesus is truly forgiving, isn't it? Lindsey gave us a practical look at how to love our spouses with the forgiving, undeserved love of Christ. (After all, none of us deserve His love, do we?)
Christ's love is unfailing. Caroline writes touching words about how to love through illness or special needs with a love that just won't quit, even though it's hard.
The love of God is eternal. Patti discussed how eternal love encompasses the past, the present, and the future, and encouraged us to parent with an eternal perspective.
Isn't Christ's love amazing? There's so many more wonderful attributes of His love to experience– we pray you'll discover more and more in your personal walk with God. And as we all continue to grow in Him, may we seek to be more Christ-like as we love those whom He has given us!