We've wrapped up 2012 and already begun a new year. Our newest Hide His Word challenge registration is underway. Next week, we'll introduce a new topic for this month.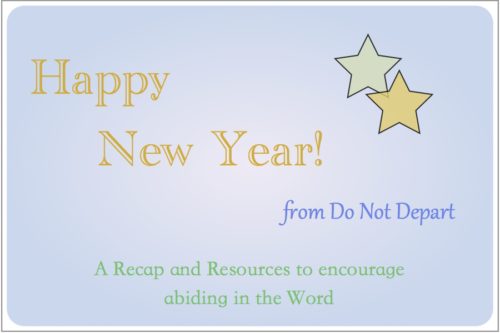 Posts from 2012
Until then, we'd like to share with you some of our most popular posts from 2012 (and welcome our new readers!):
Posts from Around the Web
We love what so many other online communities are doing to provide faith-building encouragement. A few (of the many) spectacular reads:
Looking for some more resources? Follow Do Not Depart on Pinterest! And, we always love connecting with you on Facebook and Twitter.
Our team would also like to express a big THANK YOU! to all of our readers. You all contribute so much to this community (it wouldn't be a community without you!), and we love growing and abiding in faith with you.
Happy New Year!
What resources did you come across this year? Please share in the comments! We love reading other great articles. Also, feel free to tell us how we can serve you this upcoming year here at Do Not Depart.